What if one day you open and see in the google search console that your organic traffic has dropped?
The main reason to see a drop in organic traffic changes in the design and content of your website, google updates, not having SEO optimized content, and content written against webmaster guidelines are some common reasons.
What will be your reaction if you are a full-time blogger? It definitely won't be a good day for you.
There are a couple of reasons you are seeing a drop in your organic traffic, and trust me, you may have done something seriously wrong, and if you don't fix it quickly, you may be wasting too many valuable visitors to your site.
As I have been writing content for the web for more than 4 – 5 years now. I have also faced many traffic drops in all these years.
I have listed some practical reasons why your organic traffic has dropped and how you can fix them by reading this blog post.
1. Google core update.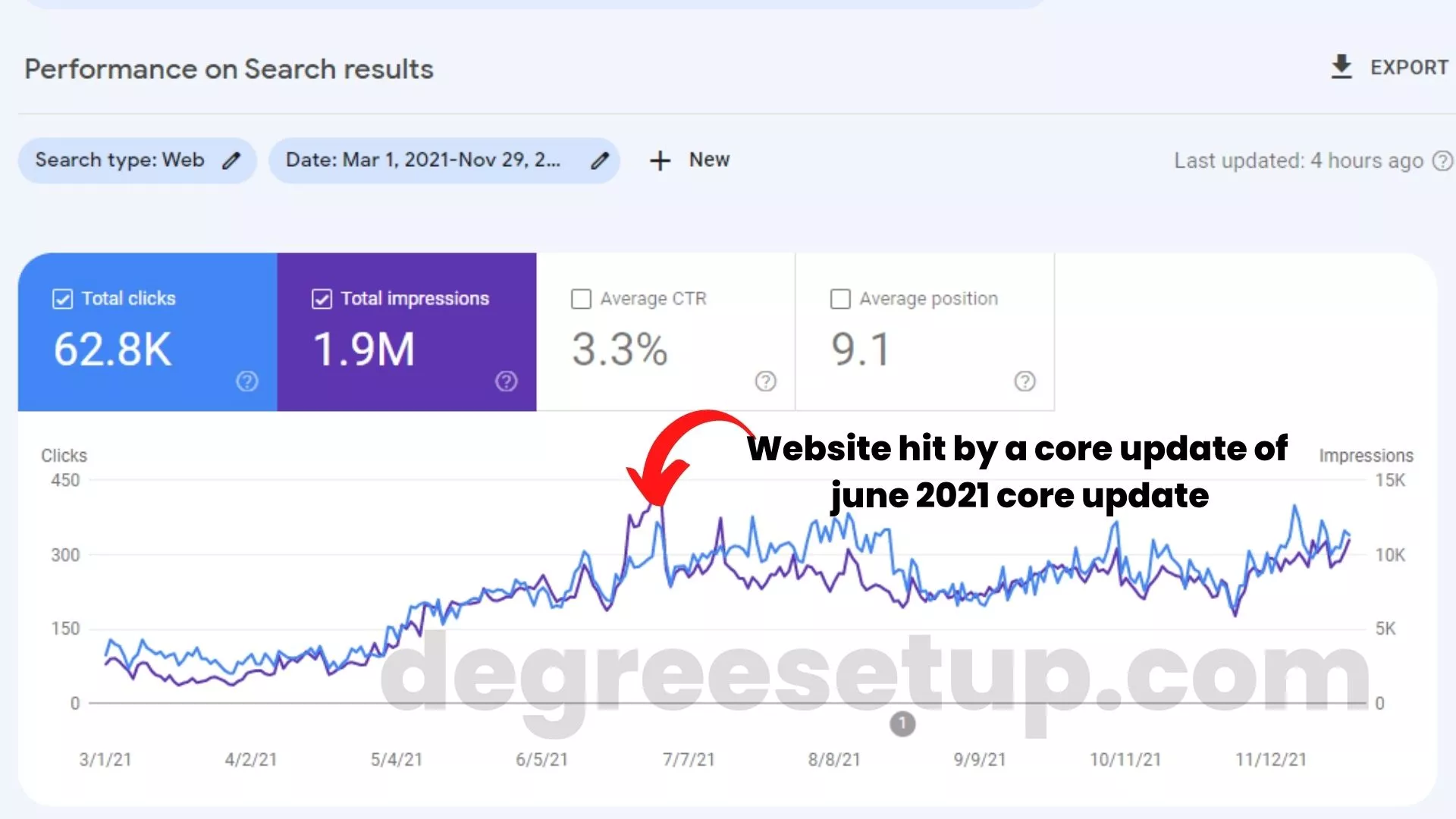 Core updates are the number one factor you experience a sudden drop in traffic. It is rolled out slowly in various regions and locations, and you can see the noticeable change in 15-20 days after its launch.
Google makes minor changes every day in its algorithm to deliver better content to its users. However, your site may not get affected by this, but the core updates are significant algorithm updates that many websites and blog owners fear.
Core algorithm updates are launched between 3 and 6 months. These updates contain a mixture of many minor algorithm updates, and when rolled out, it hugely affects the websites and blogs.
The core updates can increase or decrease the website's performance, mainly its traffic. Overall if your content meets the webmaster guidelines, it will not affect your site much.
You can see in the above images that one of my blogs was hit by a June 2021 core update as my blog content quality was not up to the mark, and then on December 21, it started to become stable and increase too.
In may 2022, a core update will be rolled out. It will also affect many sites and blogs, but you can see an increase in traffic as soon as you improve your content.
Tips to fix organic traffic from google core update.
Read the documentation of the new core update.
Remove and add the things mentioned in the documentation; you are good to go.
Google's helpful content update is live and can take up to two weeks to rollout https://t.co/LRkpoQTg9E pic.twitter.com/r54mzCWdnd

— Barry Schwartz (@rustybrick) August 25, 2022