What if one day you open and see in the google search console that your organic traffic has dropped?
The main reason to see a drop in organic traffic changes in the design and content of your website, google updates, not having SEO optimized content, and content written against webmaster guidelines are some common reasons.
What will be your reaction if you are a full-time blogger? It definitely won't be a good day for you.
There are a couple of reasons you are seeing a drop in your organic traffic, and trust me, you may have done something seriously wrong, and if you don't fix it quickly, you may be wasting too many valuable visitors to your site.
As I have been writing content for the web for more than 4 – 5 years now. I have also faced many traffic drops in all these years.
I have listed some practical reasons why your organic traffic has dropped and how you can fix them by reading this blog post.
1. Google core update.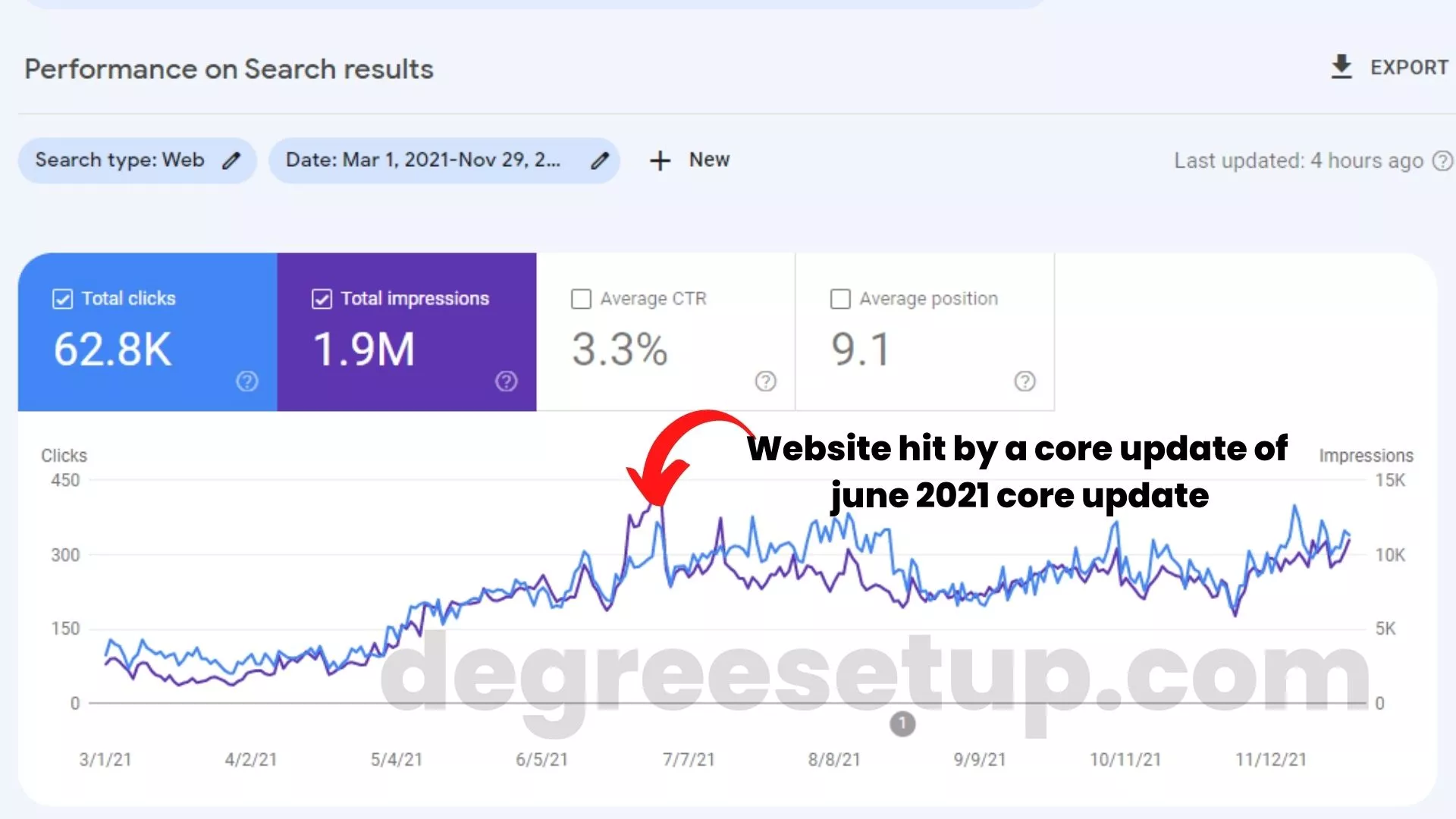 Core updates are the number one factor you experience a sudden drop in traffic. It is rolled out slowly in various regions and locations, and you can see the noticeable change in 15-20 days after its launch.
Google makes minor changes every day in its algorithm to deliver better content to its users. However, your site may not get affected by this, but the core updates are significant algorithm updates that many websites and blog owners fear.
Core algorithm updates are launched between 3 and 6 months. These updates contain a mixture of many minor algorithm updates, and when rolled out, it hugely affects the websites and blogs.
The core updates can increase or decrease the website's performance, mainly its traffic. Overall if your content meets the webmaster guidelines, it will not affect your site much.
You can see in the above images that one of my blogs was hit by a June 2021 core update as my blog content quality was not up to the mark, and then on December 21, it started to become stable and increase too.
In may 2022, a core update will be rolled out. It will also affect many sites and blogs, but you can see an increase in traffic as soon as you improve your content.
Tips to fix organic traffic from google core update.
Read the documentation of the new core update.
Remove and add the things mentioned in the documentation; you are good to go.
Google's helpful content update is live and can take up to two weeks to rollout https://t.co/LRkpoQTg9E pic.twitter.com/r54mzCWdnd

— Barry Schwartz (@rustybrick) August 25, 2022
In August 2022, google came up with google helpful content update that will take down many websites that have used AI-generated content and written fake product reviews.
If you want to know if there was any update rolled out, you can check if it is with the SEOroundbtable tool named – https://www.wasthereagoogleupdate.com/.
2. Better content.
Another reason your organic traffic dropped may be that your competitor has written better content than you.
Here better content means the quality of the information someone has put on their website, not the quantity.
You may have missed some information to put in your content. It can be text, image, or any video file. That your competitors had put on their sites.
This happens when you have written thin content on a low-competition keyword and when someone writes a detailed article about that same low-competition keyword or query. They outrank your article and appear at the top of search results.
To fix this issue and be in the top position again, you can analyze their work, review their content, and add more relevant and detailed information to your posts.
It might take some time, but you will rank better!
Tips for writing better content to grow organic traffic.
Research about the topic.
Use original images and graphics.
Write in your word to avoid using A.I. software and scrapped content.
See the competitors and what they have added to their content.
Write better content and put more resources from authoritative sources.
Read: How to write quality content?
3. Not updating the old content.
Another issue that most bloggers forget to fix is not updating their old content. You have to keep an eye on the posts on your blog that are generating the majority amount of traffic.
Make a list of the best blog posts from your blog or website and keep researching new things about them.
With time you need to delete the old content and update it with a new one. Especially be careful if you have stats and data containing numbers on your blog posts and articles. Update them with new stats, and that too with an authoritative one.
Tips for updating your older content.
Read news related to your content.
See what your competitors have done.
Add new resources to your blog posts.
4. Broken or not linking correctly.
Broken links can make users experience a bad as they visit a 404 site or a slow one. It's essential to remove links from your site as. If you do not, the users may bounce back from your site.
On the other hand, internal links are essential for growing your site's C.T.C. rates. When you start putting relevant links on your content, you can see an increase in your traffic. It also tells the detail of the site page and posts.
External links are essential to put when you take information from any other website, such as stats or data, make sure to link them by giving an anchor text so that people can quickly validate your information and trust your site.
You can use the Google search console to find broken links or any paid SEO tool like SEMrush or Ahrefs.
5. Not following SEO rules.
You must follow some basic SEO rules while writing articles and blog posts. As SEO tactics evolve yearly, you must keep an eye on SEO updates.
Write SEO-friendly content and do not follow the wrong things, such as negative SEO tactics, as doing will highly impact your organic traffic.
You can read the SEO and E.A.T. guidelines to write your content accordingly by following SEO rules.
Read: Should you buy SEO courses?
6. Change in your niche.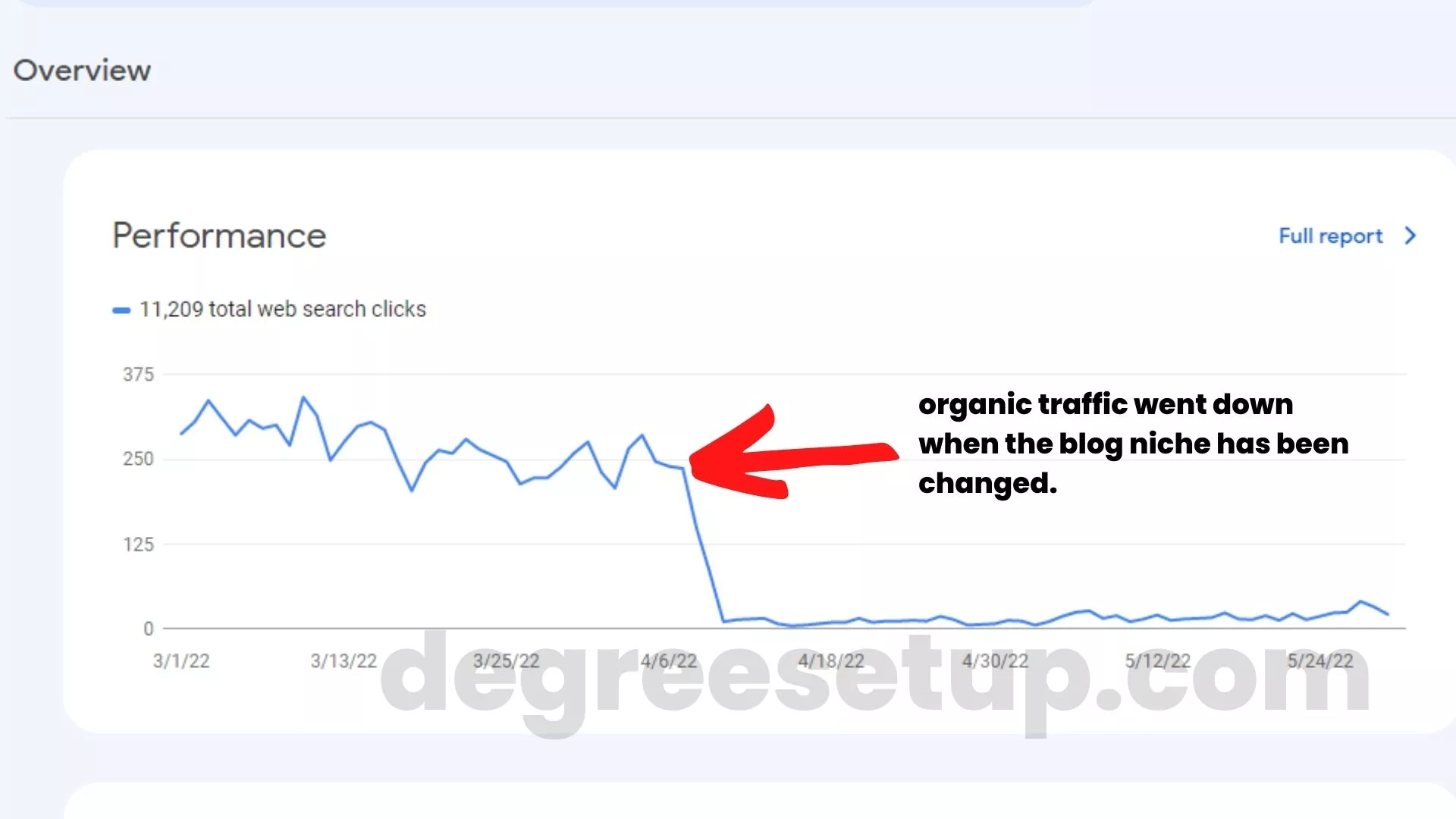 Organic traffic goes down when you change the niche of a particular blog. This is the least worrying because not many bloggers have experienced it. And most of them don't change the topic of their blog.
However, when you change the niche, be prepared to lower your earnings from the site. Organic traffic will go down for a while. But if you consistently write blog posts on your site, you can quickly regain the traffic. But it may take you a few months to do so.
7. Inaccurate content.
Content with no quality and inaccuracy may be why you observe a traffic drop. There are many reasons for it.
Inaccurate content contains lame information, and just words are filled instead of original researched content. Search engines avoid them and de-rank them without prior notifying you.
But the primary reason would be outsourced content. That's what I feel. When you start writing your content on your blog or website, you know how your website has grown from the initial days and the things you have applied to its growth.
But when you hire content writers and outsource the content from others, there are significant changes in the posts' tone of language, paragraph style, and structure.
This can be easily fixed by using the proofreading method. You have to change the style of paragraphs and some words in the content, and then you are good to go, and you can see a jump in the traffic again.
8. Website backend changes.
Organic traffic also drops if website owners or developers change the backend. In the backend, there are a lot of things.
Website theme – Change in website or template directly affects SEO and decreases rankings.
Any custom code – Which delays the loading of the content.
Site structure – Blog post appearance.
Hosting – Chang in hosting provider also drops organic traffic. That's why you should never buy any cheap hosting plans.
Using too many plugins – Using WordPress plugins to an extent can slow down the website and limit your plugins up to 6-8.
9. Getting penalties.
Penalties are given mainly by google after any core update. When you get a penalty, it becomes tough for a blog or website to rank on top again because google blocks the website. Know what to do if you get hit with penalties.
To avoid penalties, you should do these things.
Change your content according to algorithm update – In December 2021, Google rolled out a product review update. Content creators should provide original images and videos while reviewing any product.
Negative SEO – Sometimes, people call it " Black hat SEO," but there's no such thing. If google caught your website using negative SEO techniques, your site is over. It involves link spamming and keyword stuffing.
10. Bot attacks.
Bot attacks can lower your traffic level severely. This is done to scrape or gain access to your content. At first, you may see a spike in your traffic, but keep an eye on the sudden increase and troubleshoot it ASAP.
Hackers send bots using some software and make your content lower in rankings, due to which you lose organic traffic.
To identify bot attacks on your site, here are the things you should look for.
If you see a lot of visitors on your site but negative session duration or low duration.
A sudden increase in traffic from a specific place.
To avoid bot attacks on my blog, I use a plugin name wordfence and Cloudflare.
Read this to avoid bot attacks on your site – How to avoid bot attacks on your blog and website?
11. Using copyrighted materials.
Using copyrighted content also drops your organic traffic. It can be any content, such as text, images, and graphic artwork.
If you still want to use them on your website, ask the original creator for their consent or give credit to them by using an external link.
When you use any copyrighted content, it comes under duplicating the content, and hence If someone has uploaded the same thing before you, they will rank at the top, not you.
12. Seasonal drops.
Seasonal drop generally occurs on niche websites. If you have created a website that has products for a particular season or occasion, you may see drops in your website traffic.
For example – If you write content about gifts, the best time you may get a traffic spike is during the holiday or Christmas.
How much time does it take to recover when website traffic drops?
If your website is hit by the google update, it may take about 3-6 months on average to regain traffic. However, algorithm updates do not affect every site. It only affects those not following the guidelines published before the update is rolled out.
Talking about technical problems such as bots, low content, or SEO issues can easily be fixed within 15 days to 1 month.
Conclusion
Organic traffic does not remain constant all the time. With time, it will increase and decrease, but do not use any other wrong methods to promote the content on your website.
Always try to write unique and quality content than others so that you can easily stand out and visitors can come again to your site.
FAQ about organic traffic.
How to know your organic traffic is dropping?
Check google analytics or search console to analyze your traffic.
How much time will it take you to regain the organic traffic?
If your site is old and you put content constantly, it will take around 2-3 months.
Why is Your website's traffic dropping?
A core update from google may have hit you. Recovering from it may take several months.