If you are looking forward to writing 1000 words blog post but not getting a correct solution. This post may help you write your first thousand words post on your blog or website.
Before writing your first blog posts, there's no official documentation by google or any SEO company that your blog post should contain a specific word limit. If your information has value and quality and satisfies the searcher's intent, a small content can also easily rank on the top.
Here I choose to write about 1000 blog posts because this is a standard word limit in blogging and most new bloggers write somewhat near this word limit.
It does not mean that you need to write 1000 words only. You can write 800 words, 900 words, or even 1200 words if you want to cover all the topics in your blog post.
Note: A blog post containing a word limit of between 700 – 1200 words comes under a response post or a query post.
However, going below 500 words comes under thin content if it is a broad topic or unrelated to the news.
To know how you can write 1000 words blog post with ease, I recommend you to read all the points below and implement them on your blog or website.
Things to do to write 1000 words blog post.
These are all easy-to-perform tasks, and if you are using WordPress, that's a plus point for you as it is easy to access and write there.
1. Finding the keywords
For writing 1000 words blog post, the keyword you should find should be related to a single search query.
You can use google trends and answer the public for finding the keywords
For example, you can write about these ideas if you own a blog related to pets.
"How to clean a dog house?"
"What things do you need to have to clean a dog house."
"how often to take the dog for a walk?"
You can find a low, competitive topic and write 5-6 small blog posts based on your blog's niche.
2. Planning the content
Once you get your keyword, it will be a super easy task to write 1000 word blog post. Just find some relevant keywords related to your main keyword and write 3-4 subheadings.
You can write about 200-250 words in each subheading, and then you are good to go.
You can use the people and ask option on the SERP page to get subheadings. And add it to your subheading.
3. Writing the post
Writing a blog post is quite time taking process, and it takes time. If you haven't read my previous posts related to writing blog posts, you must visit and look at the information I have provided there.
Distribute each subheading in 10-15 minutes, and you can quickly write 1000 words or more than that in 60-90 minutes. With each blog post, your writing speed will enhance, and you can write blog posts at a much quicker speed.
Must Read: How to write a longer post?
4. Editing and SEO
After writing the blog post, it's time to edit it. While editing the blog post, you must practice these things.
Check the grammar.
Keep paragraphs short.
Use bullet points and numbers where possible.
Read: Cost to learn SEO writing.
And for doing basic SEO, you must include these things.
Add alt text in images.
Add unique images.
Internal and external linking.
5. Proofreading
After doing all the stuff, Proofreading means reading the content once again, finding minor errors, and correcting them if possible.
You can take the help of anyone, such as your friends or family members, to read your content and tell the mistake or add anything new to the post.
How much time will it take to write?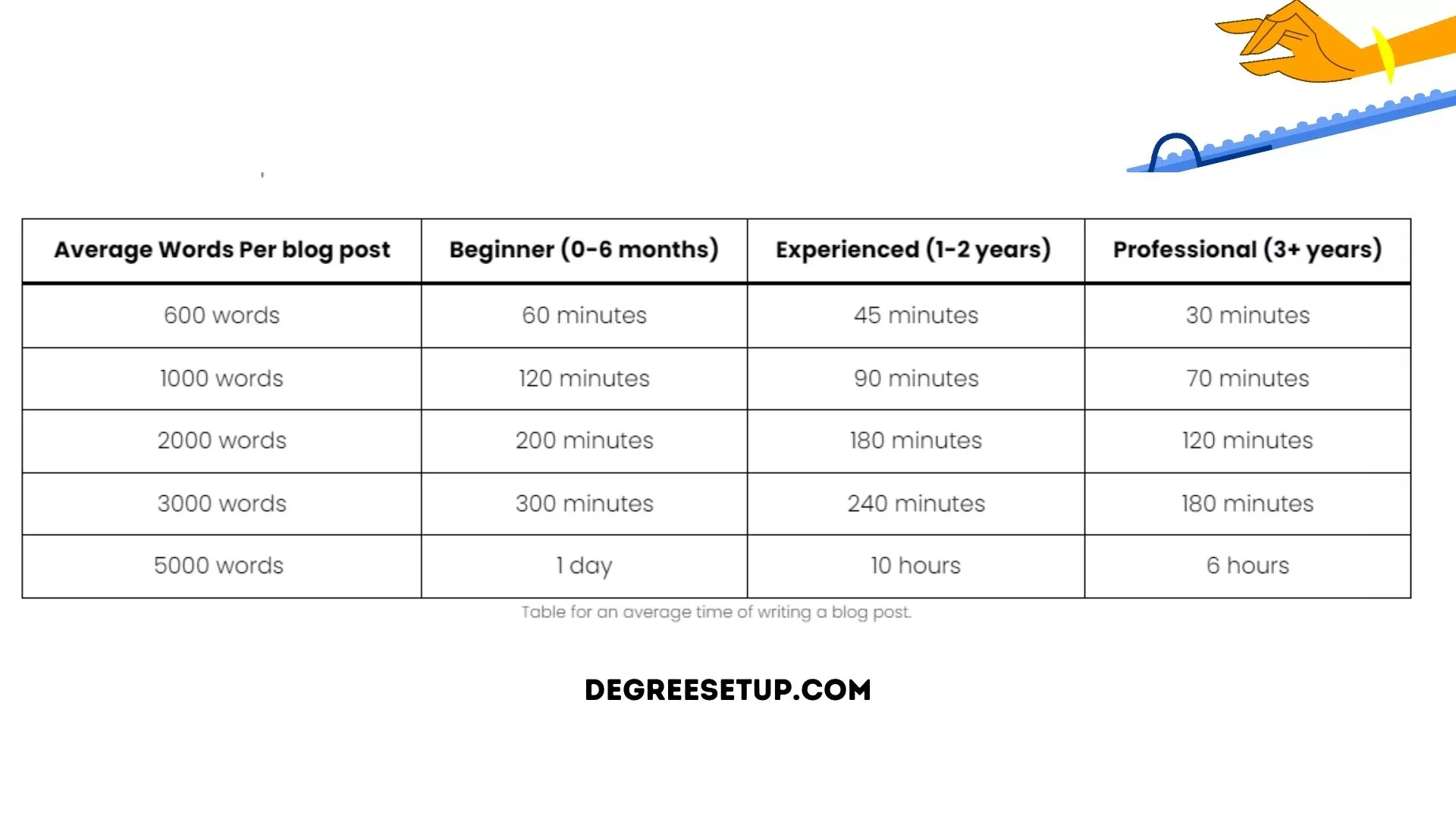 As you can see in the above picture, it is given that it would take 70-120 minutes to write the 1000 words blog post. Keeping in mind all the five steps above is a decent amount of time, and even if you have a day job, you can quickly write a blog post daily.
But if this is your first ever blog post or first 1000 words or more, it may take you around much more time.
When I made my first blog, I was damn happy after writing 400 hundred words, which took around 2-3 hours. Back then, my typing speed was super slow. I used to find alphabets on the keyboards, but after 3-to 4, my speed and accuracy increased, and I can write 4 to 5 1000-word posts daily.
To write blog posts faster, you need to increase your typing speed or take the help of speech-to-text software, which you can easily access from google docs. And don't forget to blog daily cause consistency is the key.
Is it possible to write 1000 words in an hour?
After writing 40-50 blog posts and with an experience of 6-8 months of writing, anyone can write 1000 words in under an hour. You need to write 16-17 words or higher to write and blog post in under an hour.
How to make the blog post look long?
Writing just words in your blog post will make it look short, and readers will not get a better experience. Along with the text content, you should add the following things such as.
Images.
Infographics.
Video files.
These three will help you to make your content look longer and more attractive. Also if you monetize your blog the ads will look better above or below the visual content.
Summary
writing blog posts faster will take about 2-3 months if you work on your blog with consistency.
However here 1000 words which is mention on the topic is a standard of blog post because most new bloggers write under or above this word limit. After writing blog posts on short queries you should more towards writing on bigger topics.
FAQ about writing 1000 words blog post
What if your blog posts has less than 1000 words?
There will be no effect on ranking or SEO. If you content has enough information it does not matter or have any relation with word limit.
How many blog post if 1000 words can we write in a day?
If a working professional owns a blogs he/she can write 2 or more blog post on daily basis.
How much time it will take readers to read 1000 words blog post.
It will take around 8-10 minutes to read it.