I have uploaded 1000+ wallpapers on Zedge and have generated $30-$40, increasing by 20%-30% each month.
But do you know how I did that? Like millions of others, I was also searching for a platform to help me generate money. I mean, there are thousands of ways that we could do to make money from the internet.
But here, I will not discuss other platforms. And instead, directly jump to the answer and tell you how I created AI wallpapers and made money from them.
Leonardo.Ai is the best AI image generation platfrom that can be used to create wallpapers and other types of images. You can use this platform to create 3d models, wallpapers, and images for social media platfrom.
Apart from this, I find Midjourney is far better than Leonardo.Ai for image generation. However, there are too many limitations for free users on Midjourney compared to Leonardo.ai, which offers about 10x more free resources than any other AI image generation tool.
Read – How to Make $100 Per Month on Zedge: A Realistic Guide!
How to create AI wallpapers using Leonardo.ai?
Follow these steps as I have mentioned all the essential and necessary steps to create a fantastic wallpaper for your smartphone. Besides wallpapers, these images can be used as t-shirt design templates, smartphone back covers, and printed on other physical products you like.
Step 1 – Create an account on Leonardo.ai.
Visit Leonardo.ai and click on Start using Leonardo. Now fill in your details and press the count me in button. You will get an email that your email is whitelisted, and then come back to this platform again and press the Yes; I'm Whitelisted button.
Step 2 – Choose a model.
There are more than 20+ models that you can use to create different kinds of images. The best model is Leonardo diffusion, which is among the oldest and generates high-quality images compared to other models.
Step 3 – Configure the settings.
Make sure to create a wallpaper and change the settings. The height of the image should be greater than the width of the image. In this case, I have chosen 512 x 1024. You can change the image resolution as you need but know that the higher the picture quality, the more tokens will be used.
Step 4 – Image prompt.
Now in the prompt window, you can do anything you want to generate your wallpaper. Here I have written "Cyberpunk Building with a Moon.". You can give any prompt you want and generate your own wallpaper.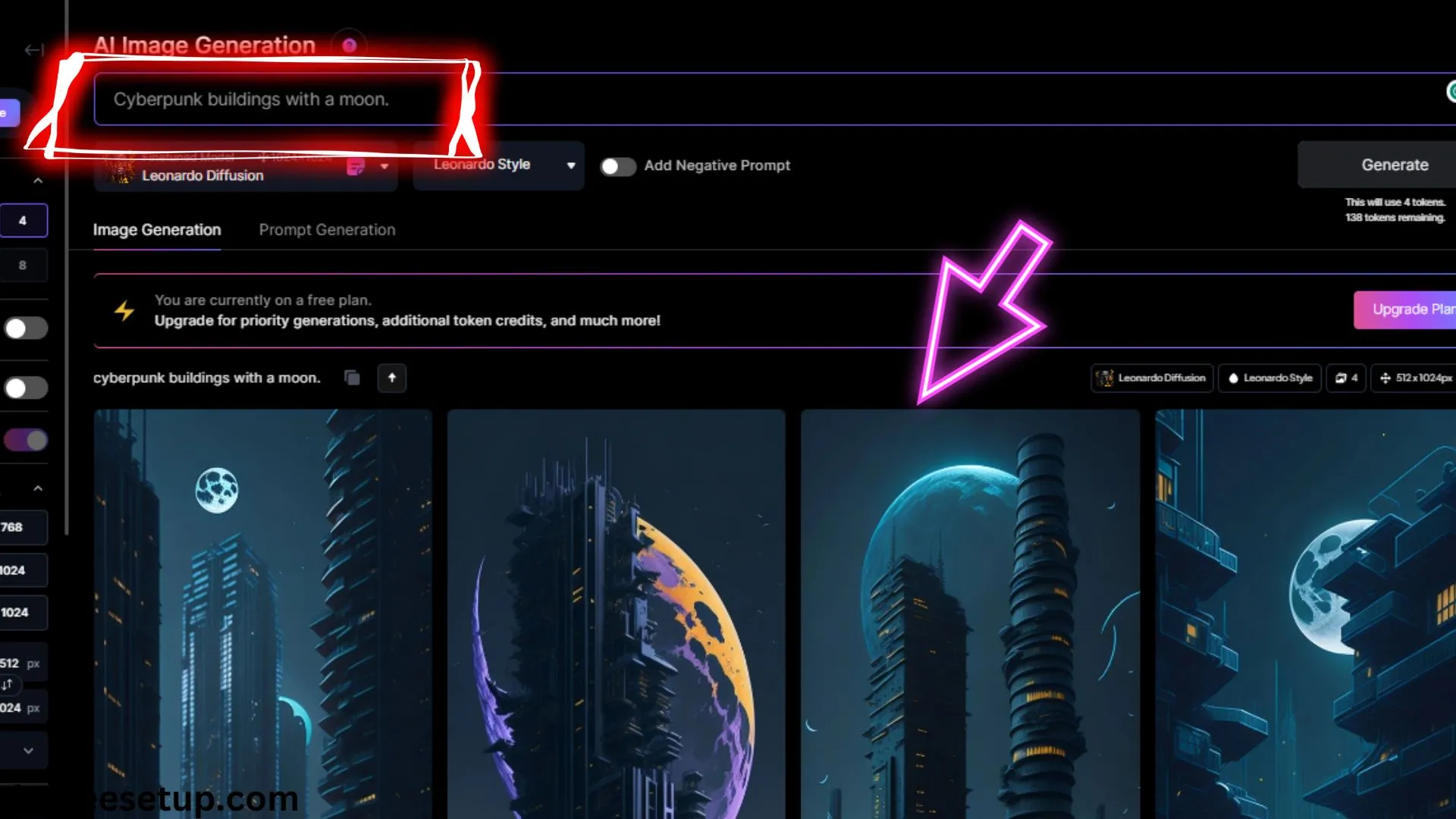 How To Upload Ai Wallpapers On Zedge?
To upload your Ai wallpapers on Zedge, you have to change the resolution of your generated Ai wallpapers, which can be done using Canva.com. The wallpapers on Zedge can only be uploaded if the resolution is at least 1680 X 2880.
As I have mentioned in my previous article, that is how you can make money on Zedge. You can read that article to know more about it.
I started uploading content on my Zedge premium marketplace account a couple of months now, and I can say that after working for 1-2 hours daily, I have been making an average amount of $25-$30/per month.