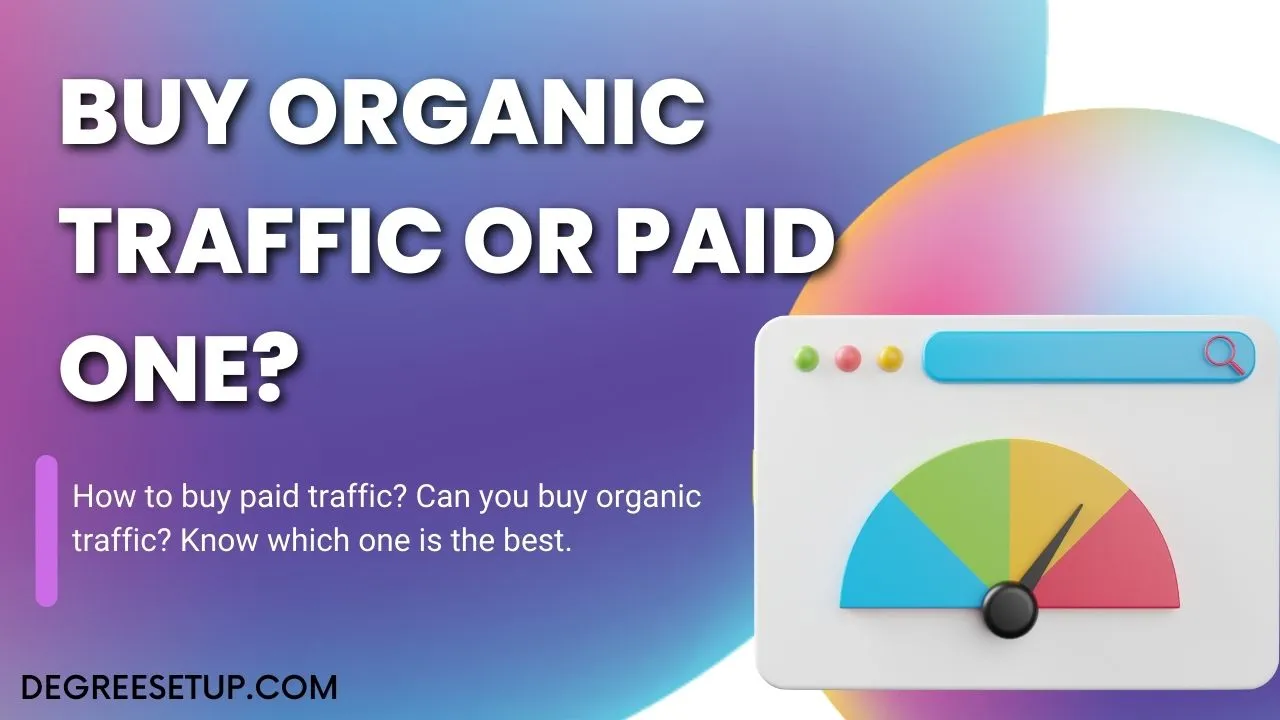 If you are getting good traffic to your blog or website, you have done a tremendous job writing blog posts and making them rank on the top. That is the main reason why people are coming to your blog.
But what about those whose site has few visitors or has no visitors? It is tough for them to see their competitors going to the top.
If you recently created a blog or website, you should read this post carefully as if you are running after getting traffic; your views might change after this. Also, if you are looking forward to spending money on paid traffic, you may not spend it as the information can save your money.
Can you buy organic traffic?
Talking about organic traffic, "organic" means relying on your resources. In simple words, organic traffic is self-generated, relying on the content of your blog or website.
This organic traffic is generated when a user or searcher looks for something on the web and lands on your website. This happens because of many reasons. Let's see some of them down below why you get organic traffic.
Your content delivers the searcher's intent.
There is no similar content on the web other than yours.
Your content has similar keywords that search is looking for.
Your content has brief and researched information about a particular topic.
There is no possible way to buy organic traffic for your blog or website. You will only get it by adding content on various topics in a particular niche.
Must Read: Best ways to increase organic traffic.
Pay for SEO instead of buying organic traffic
Now you know you cannot buy organic traffic, but you can spend your money on search engine optimization.
Search engine optimization for a website starts at around $500 per month, but the budget depends on the scale of the website.
Or you can learn SEO by yourself from watch videos on youtube or reading blogs at degreesetup.com.
You can hire a freelancer SEO expert or agency to do your website SEO depending on your budget. But keep this one thing in mind SEO takes time, and the results can take some time, about 1-2 months to reflect on your
Must Read: Why has your organic traffic drop?
Is it reasonable to buy paid traffic?
Buying paid traffic is fine as it helps you gain some potential audience fast. If you recently started a business. You need at least 6-8 months on a new website to get organic visitors.
Whereas to kickstart your business instantly, you should go for investing in paid traffic to your website.
If you are low on a budget, first promote your website locally by using social media such as Instagram and Facebook or Instagram with a budget of $5 a day.
Then once your website becomes popular and you start earning money, invest your profit on buying more paid traffic.
Advantages and disadvantages of paid traffic
Advantages
Increase in reach and traffic fast.
Best to use during festival season.
Targeting the audience.
Easy for lead generation.
Disadvantages
Traffic only lasts for a temporary site.
Site authority does not increase much compared to organic traffic.
If content quality on the site is low, the traffic will go down after using paid advertisement.
Should you buy organic traffic from freelancing sites?
Freelancers who claim to send organic traffic on your website are they real or does it really work for your site.
I think it may work for a short period of time when you pay a certain amount of money to freelancer they bring certain amount of organic traffic to your site.
This may give your blog initial boost and several post may rank on the first page of the SERP but after some time you we see a drop in your traffic when your contract is over with the freelancer.
You can buy organic traffic when there's any specific event or you want to sell any product on your site but for a long time it is not possible to rely on buying the traffic.
Primary sources to buy traffic for your blog and website.
You can buy traffic using paid sources from the market, called paid marketing. There are various sources you can use to get paid traffic.
To buy traffic, you can spend your money on the following things.
Search advertisement or pay-per-click
The primary source of getting paid traffic is thru search advertisements. And is the best digital marketing source you can use to promote your website.
These are google ads, and almost every company uses them to promote their business online. According to statista.com, in 2021, google generated $209.49 billion from ads.
So as you can see from the revenue itself, google ads are the best way to promote your platform.
Social media ads
Another paid traffic tool is social media. You can use platforms like.
Facebook ads.
Instagram ads.
Tiktok ads.
These powerful platforms target specific groups of people to promote a site or brand.
Influencers ads
This is becoming quite popular now. You can hire a creator to promote your blog or website. This is similar to celebrities doing advertisements but on a low budget. If your budget is tight, you can hire a content creator with a decent number of followers.
But while hiring an influencer, make sure to look at his work first. Hire someone who creates the content in the same industry that your website is about.
Don't spend money on hiring a food blogger. If you own a website related to tech instead, the conversion rate will be pretty low.
Print ads
This is the traditional way of promoting your brand. There are still many people who read newspapers and magazines.
If you want to advertise locally, this is the best-paid advertising option. Nothing can beat this if you own a shop and deliver products locally. However, the cost of advertising in print ads is relatively higher.
For local newspapers, the advertising fee starts from $500 or more. And magazines are at a much higher price, starting the full-page ads from $5000.
Find out the ad prices of various newspapers.
Affiliate ads
Affiliate ads are safer as you have to pay on conversion or if your product has through another platform.
Generally, affiliate programs pay up to 10-20% commission to affiliates. In a way, this type of ad is suitable for those people who don't want to spend money from their pocket.
But generally, affiliate marketing is done for products and services. However, you can use it for promoting your website by just asking famous website owners or blog owners to promote your website in their ad section.
You can also pay them per thousand visits or conversions.
Conclusion
Overall paid advertising is not bad at all. It is an excellent way to get instant traffic to your website. But traffic without content or a product is worthless. First, you must focus on your product and content on the website.
Thin content or less content on your website will increase your bounce rate even if you have paid for the traffic.
First, promote your website locally, district-wise, and then for large-scale advertising.
FAQ about buying organic traffic
Can you buy organic traffic?
There's no way anyone can buy organic traffic. You can only get organic traffic when people land on your content by searching for them.
FAQ about buying paid traffic?
Best way to get paid traffic?
The best way to get paid traffic is from google ads, Facebook ads, and influencer marketing.