If you have written too many product reviews on your website or blog, then be aware!
As of now, Google is strict against writing these reviews, and in the past year, it has brought significant changes for bloggers and writers who all write product reviews.
Google came up with many essential guidelines you must follow when reviewing any product on your website. If you want to read more, click the links below.
List of a google product reviews update.
These tips will help you to write a better review of both physical and digital products. Also, it will help the users find the most accurate examples they are looking for.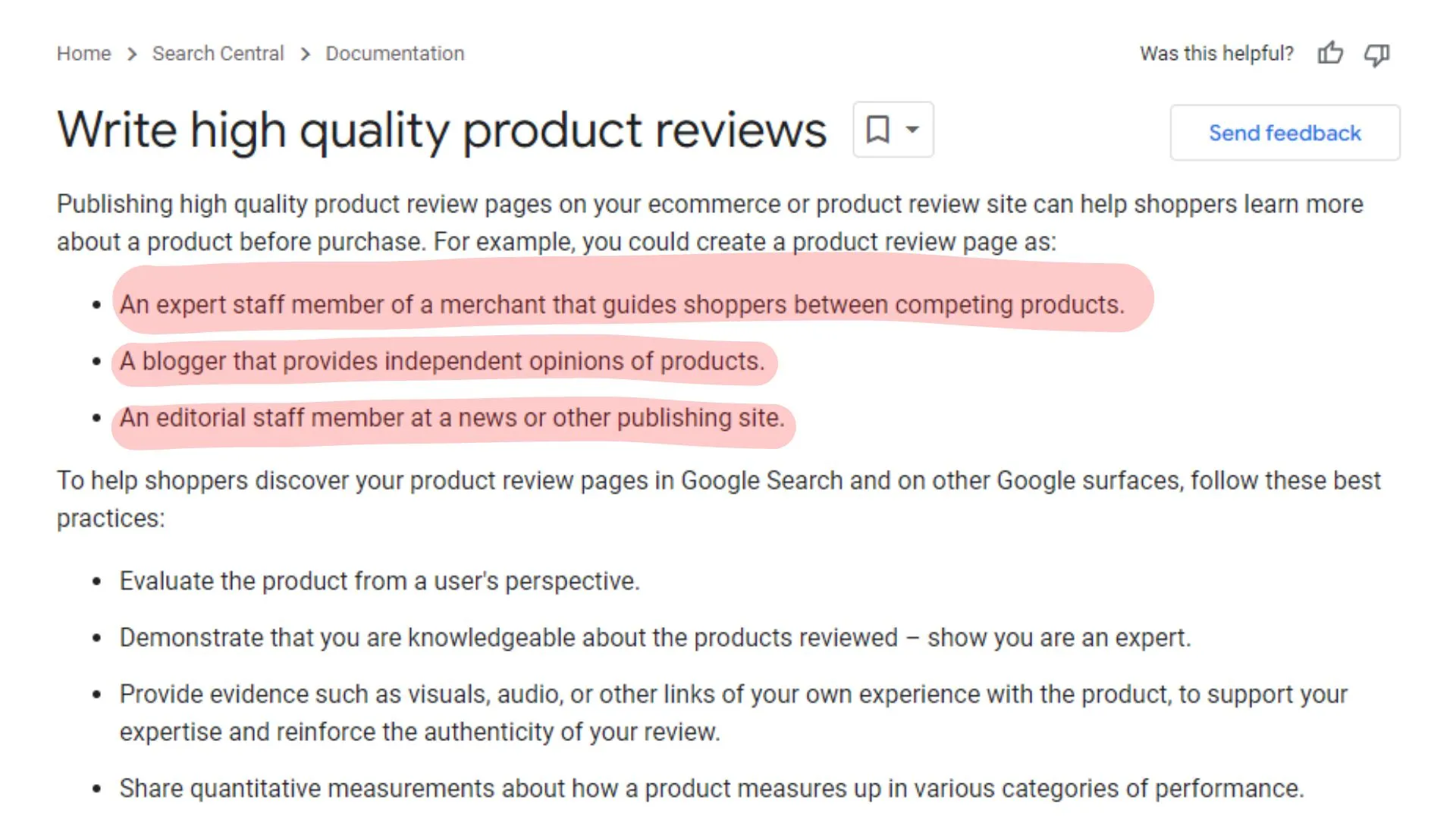 Tips on writing product reviews
You don't have to write all the points when you review any product but make sure your content should have.
Original images.
Opinion.
Comparison.
Let's see the guidelines of google for writing a product review. Here I have taken the example of a smartphone and how you can write a review for it using the help of the below points.
1. Write for Users.
When you start writing your product review, write as if you are telling someone about your product.
Use a conversational tone as if you are talking to someone and telling them about the product. Using this technique, it will be easy for the users to read your review and take action quickly.
Read – How to write a 1000 words blog post?
2. Research the product before reviewing it.
Researching the product gives you expertise while reviewing it. You have to do deep research before writing about anything on your blog. To do research, there are the following things that you can do on your blog.
Visit the official website of the product.
Read the buyer's reviews from e-commerce sites.
Watch youtube review videos and note common points.
For example – Visit the official smartphone brand website and look for the official information.
3. Upload self-clicked images and videos of the product.
Google has strict guidelines for product reviewers to upload original images and videos of the product they review.
For that, it is a must for you to buy or use the product before your review. For instance, if you think you can use reverse images or stock images, your content will not rank compared to a blog with a unique image.
Example – You can click the images on your secondary phone or create a video while watching or playing games.
4. Use the product and write about all the features.
Take at least 3-4 days and use the product thoroughly. It will be enough for you to do a solid review of the product. Also, don't forget to write the main USP.
Losing a feature will make your review partial, so it is a must that you have to write about all the features, whether it is about hardware, software, or any other features. Also, it would help if you mentioned your opinion about the features and things you liked and didn't like.
Example – Use your smartphone for 3-4 days for gaming, watching movies, using the camera, and video shooting.
5. Write unique points compared with competitors.
Every product has a competitor. You also have to research various similar products and point out the main features of the product you are reviewing.
You can visit an e-commerce site to review your products and list the features by making a comparison table.
6. List out other products as well and write their uniqueness.
This point is the same as the above point, but when you write a call to action and the end, you should mention and put the links to other products so that the readers can choose to buy other products.
7. Compare it will take previous models or versions.
The product review will be done, so you should also cover information from the previous model.
You can compare the product to other brands' products if it has been recently launched.
Example – If you are reviewing iPhone 14, compare it with at least three predecessor models.
8. Rate the performance in various fields.
You can create a table that should have ratings about your product's features. Based on that, you can give stars or points for various features.
List out the best features of your product, its significant flaws, and what things can be changed from the manufacturing side.
9. Describe the product and how it is manufactured.
You can embed a link on your content if a video is available about how the product works or is manufactured. This may help if you are reviewing any food-based products.
10. Include internal and external links to the same product.
You may not be the only one to review the product. While mentioning similar products, link out to external authoritative sites to make your readers get more information about the product.
11. Write about its best features with solid proof.
Creating a video while you use the product and adding to the content using original images will make your content rank better.
12. Write pros and cons.
As per the research done by google, people who are willing to buy a particular product also want to know about the pros and cons of the product before making their purchase decisions. It is also valuable as per SEO, as they are highlighted in the search results.
FAQ about writing product reviews
Should you need to buy a product to review it?
You should have a product and add original images and videos while reviewing it. You can buy or borrow it from someone.
How many days should you use a product to write a review?
To write an in-depth review, try at least 3-4 four days.