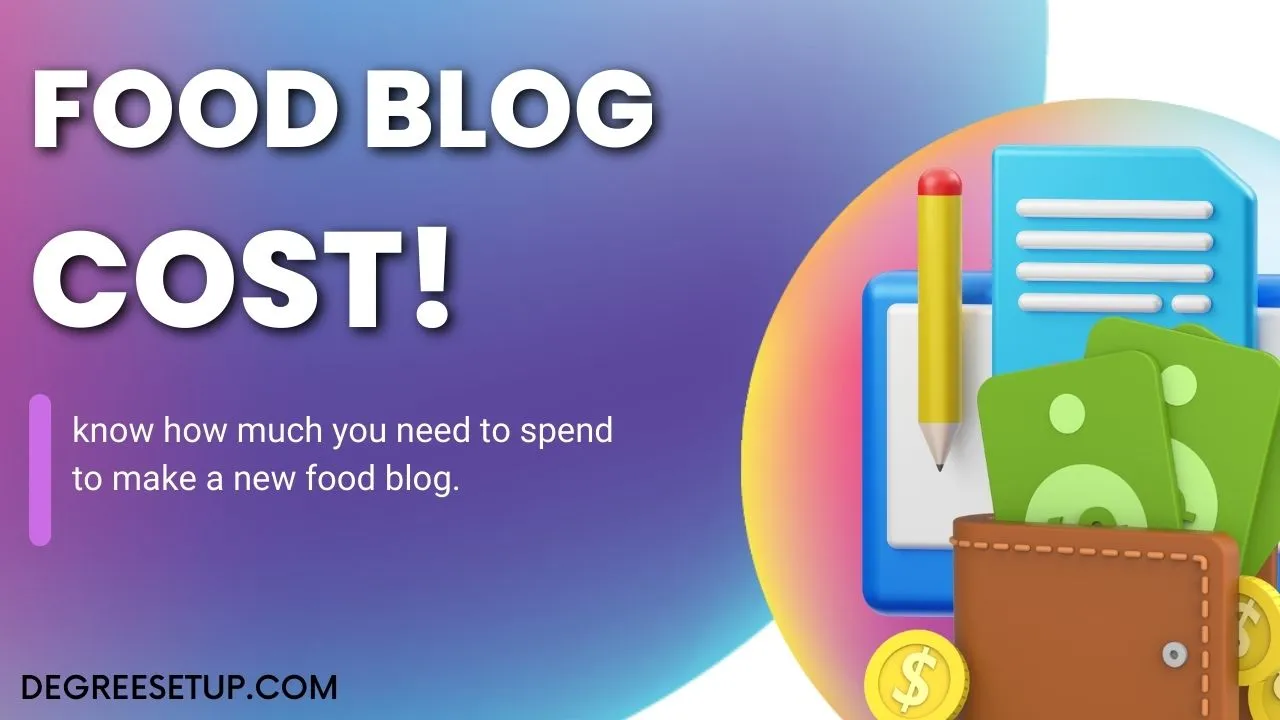 Are you making a food blog? But you may have much confusion in your mind related to this. Isn't it?
If you want to create a food blog, the first that should have hit your mind is the budget. And you must be thinking about how much does a food blog cost?
For starting a food blog, you need to spend a minimum of $100 -$120/yearly. This consists of hosting, domain name, and theme. Other expenses, which I have not included here, include hiring web designers, SEO experts, content writers, and buying posts.
Talking about the food blogs, they are similar to other blogs, but producing content is different. Most expenses will be spent creating content such as recipes and images and producing videos, but this is a complete option.
The research I did to write this post carries information from various hosting platforms and content marketing sites.
Must read: Best food blog Ideas.
What things will you need to start a food blog?
Here I have listed the essential things you need to start a food blog and the cost of all the things I have stated, and other information to help you create your blog easily.
Buying a domain name is one of the primary and first steps to starting a food blog or website. Most hosting sites provide it for free, so if you are a newbie and this is your first blog, you can quickly get a domain by buying the hosting.
2. Hosting – $50-$70/per year
While buying hosting, do not make any mistakes. There are multiple hosting providers, but the best and most affordable one is hostinger. With less than $50, you can quickly get hosting and a free domain name for a whole year. Isn't that great?
You can buy checkout hosting plans from this link – Checkout hostinger plans for making a food blog.
3. Blog Theme – $40 – $80/yearly
After buying the domain and hosting, it's time to get a theme for your food blog. There are free themes available on the internet that you can easily use.
list of free food blog themes
Free themes are great to use, but they lack customization options. If you are new to using WordPress and unfamiliar with theme options, it would be a headache for you to design your first blog.
If you don't want to be involved in technical things, I suggest you buy a paid one there. Just download a paid theme and start your blog hassle-free.
Check out paid food blog themes.
4. Graphics and images -$15-$20/monthly
Adding your own clicked photos to your food blog is highly recommended. This will increase authority, and search engines like new and unique content, text, or images.
But every food blogger can't add up images as they have to prepare the dish then. Only they can add the image to the post.
You can buy stock photos and use them on your posts to avoid that. Buy paid images as they have fewer chances to be uploaded on the internet, and you can fully own images.
The best stock image and graphic designing tool for blogs is canva. You can use the free version, but the paid version is better for using images. Visit canva from here.
To know more about using images, read my previous post about taking permission and using copyrighted images on the blog.
5. SEO – (Optional) $500-$1000/per month
SEO experts can charge a whopping $500 or more to make your blog optimizable. I recommend hiring a freelancer, as you can negotiate the price rather than going to an SEO agency.
This is optional. Please don't focus on paying for SEO during the initial days of your new blog; writing and adding new content would help you more.
SEO(Search engine optimization) is one of the essential yet fundamental things one should practice to make their blog rank on search engines.
It would help if you practiced these things on your food blog for doing SEO.
Make your blog loading speed faster.
Make your blog responsive.
Keyword research on low competition queries.
Using images and infographics in blog posts.
Use H1, H2, and H3 tags as your headings.
There are other factors as well, which you can read here.
6. Content (Blog post and text content) – $70-$150/per post
In one of my previous posts, I mentioned blog post cost. You can get information in detail there.
It would help if you expanded your blog by adding content at some point. For that, you need to do several things. Such as.
Hiring content writers.
Buying blog posts.
Writing content for your blog.
Make videos for your blog or youtube channel.
These things will take a considerable amount of money, so it is recommended that you first earn from your blog, then take out the profit and invest about 30% – 50% of it to produce more content.
Must read: How much does a blog post cost
The yearly cost of running a food blog?
With the help of a table, it will be easy to understand the yearly cost of running a food blog.
| Year | Hosting and domain cost | Images and graphics cost | Content price | SEO and marketing | Total |
| --- | --- | --- | --- | --- | --- |
| 1st year | $100 | $120 | $0 -$100 | $500 | $800 |
| 2nd year | $250 | $120 | $500 -$1000 | $1000 | $2000 |
| 3rd year | $500 | $120 | $1000 -$3000 | $3000 | $5000 |
| 4th year | $1000 | $120 | $5000-$8000 | $5000 | $10000 |
| 5th year | $2000 | $120 | $10000-$15000 | $8000 | $20000 |
Food blog running cost per year.
1st year – In the first year, the investment is only required for buying basic things such as domain names and hosting, so it won't take you more money. But you need to invest from your pocket.
2nd year – After one year, you will get considerable traffic to your blog. Also, you will earn if you have written 100+ posts and 50k visitors/month to your blog. After a year, you earn about $600-$700 per month. You can easily spend $2000 yearly.
3rd year – Your food blog is now becoming old, and the amount you need to spend on it would be about $5000/yearly. This includes paid advertisement as well. That you can also hire social media food influencers to promote your blog.
4th year – The fourth year is an important one now. You can fully automate your food blog. Hire content creators and writers and make them run your blog. Your investment for this year would be $10000.
5th year – This is the fifth year, and you need to compete with other big companies. It's time to collab with bog food companies. Also, you need to expand your team and add this to your blog.
How much do food bloggers earn?
Food bloggers can make about $700-$800 from a blog with 50k monthly visits just from ads. If you suggest a product, for example, a $25 chopping knife, you will get a $5 commission.
And from 50k visitors, 200 will get converted and buy that knife you have suggested. So your earnings will be about 200 x $5 = $1000.
There is no limit to earning from a blog. However, as a blogger and content creator, your food blog can earn much higher if you take the right steps.
Here are some steps you can follow to earn from a food blog.
Choose a good ad network that pays higher, for example, adthrive or ezoic.
Target high CPC countries such as the united states and the UK. For low-paying countries, affiliate products are the best source of earnings.
Find good affiliate products such as kitchen appliances and crockery sets for your food blog.
Sell digital goods such as E-books or recipe books from your blog.
Do a paid review of restaurants and food from various outlets. But make sure to give a disclaimer about paid reviews to your readers.
Conclusion
The prices I have included above may differ due to inflation or sales, but the prices are practical and are on the higher side.
Before making a food blog, question whether you like doing it. Don't make a blog if other people around you are doing the same.
Instead, find a niche that makes you comfortable and interests you to talk about. It can be anything.
However, interests can develop after trying things, too, once you try. Please write a few posts, see how it's doing, and make other people read to boost your confidence and learn from their reviews.
FAQ about food blog cost
How to earn thru a food blog from restaurants?
If you own a blog or an Instagram page, you can do paid promotions and reviews for your blog. But you need to be famous and have a certain number of followers.