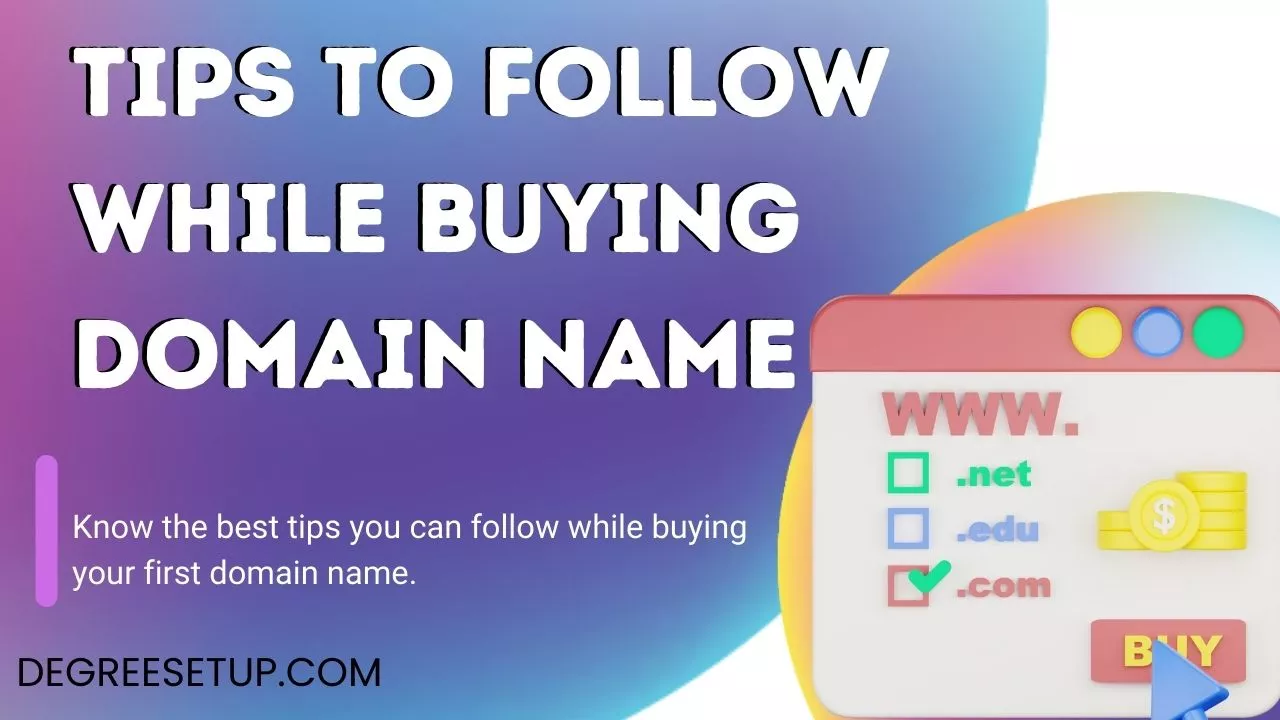 Are you looking for a catchy domain name?
If you are thinking about starting your blog or website and don't know how to do this, this is the right place to learn.
After reading this entire article, I am sure that you will be able to find a good name that will be catchy and easy to remember.
I did a lot of research to write this article and came up with a few tips to help you find a good domain name.
In my research, I included things like
I visited several social groups in the social media groups related to blogging and talked with bloggers and experts.
Watched several videos on google search central.
Spent 3 hours reading articles and finding the best content on buying a domain name.
If you are creating a website for the first time, you may also purchase hosting, and if you don't know when you buy hosting for the first time, you also get a free domain for a year.
This is provided by specific platforms only.
To buy hosting, you can choose any of these platforms and get the hosting and domain name below $100/year.
Tips for finding a unique and catchy domain name.
Here are the seven best tips you can follow if you are a newbie looking to register a domain name.
1. Follow your niche.
Niche is significant, and you must focus on a similar name related to your niche. You can register a domain name on any product or service you will write on your website.
You must remember these things while registering the domain name of any niche website.
The name should reflect what your blog is about.
It can contain any product and service name. (Avoid using copyrighted names)
Here are some niche site domain name examples you can follow.
Gaming chairs – Chairplayer.com
Home garden – Frontyardblog.com
Haircare – Silkyhair.com
Read the Cheapest way to create a website.
2. Go for new extensions.
Most people will tell you to take advice on taking a domain name with a .com extension. Which is OK to take.
But today, if you are looking for a short and catchy name, you won't get it because all that names have already been taken.
.Com is a widely used domain extension as this is mainly used for commercial intent. But in the past few years, we can see the emergence of the use of new domain extensions.
There are multiple domain extensions according to your niche that you can use on your site.
.tech
.hair
.net
.us, .uk, .fr (country codes)
.io
Checkout out more TLD here.
Other than that, decentralized domain names will be used in Web 3.0. Find out more about these domains.
3. Look for synonyms.
If you buy a domain using common popular keywords, there's a high probability that the name may have been registered.
But there's an alternative you can use the synonyms of the keyword you are finding. Go to google search and type the word and then write synonym.
for example, "Money synonyms."
There will be more than 15-20 words of the same meaning which you can use to register the domain name.
4. Use powerful words.
You can use power words with your domain name at the end of the beginning. It helps to trigger a psychological or emotional response of the users.
It also makes the domain name catchy and appealing. Using a powerful word, you can create thousands of domain names using some common keywords.
There are thousands of powerful words you can use. To make it more accessible for you, here are some examples.
Examples of power words.
Crazy.
Awesome.
Beat.
Stunning.
Force.
Magic.
Cry.
Adore.
Urge.
Cheat.
Check out the list of power words from here.
How to use power word with your domain name and make it appealing? Here are some examples.
Crazychef.food
Adorecats.com
Editmagic.com
blockchainmagic.com
Cheatmeals.com
These are some references that you can use.
5. Keep characters short.
The ideal domain name should be between 6-12 characters long. But as I mentioned in above point, finding a short domain name is not so easy.
You can try various domain extensions to keep it short. If you don't find any term related to your nice, you can start your blog by your name, but it will take time to make
If you want, you can use unique domain extensions. You can use extensions such as.
6. Avoid symbols and hyphens.
Suppose you have a laptop store and want to create a website to sell products online. You should not use hyphens and symbols on your domain name.
These types of domain names look unprofessional. You can add more words or make it plural but adding symbols is not a good option.
7. Look for domain ideas on websites.
I have used several websites that helped me find the names of a few of my blogs. These sites are free to use, and you can get thousands of name ideas for your site.
Which is the best platform to buy a domain name?
Some platforms sell domain names, but you should know about the cheapest place where you can easily buy them.
The cheapest place to get domain names is dynadot.com and clouflare.com, where the price of a domain starts from $8. Comparing this with other platforms, this is the cheapest option available to you.
Conclusion
A domain name is essential if you buy it for personal or business purposes. You must do proper research before buying any domain.
Keep it short, simple, and relevant to your business if it is for your business.
FAQ about Catchy domain names.
What makes a domain name unique?
If your domain name is short, has catchy words, and is easy to remember. It is a unique name.
Can we use another domain extension apart from .com?
Yes, you can use various top-level domain extensions such as .blog for blogging, .info if your website provides information, and .biz for online business.