Have you ever heard about a seasonal blog?
There are many types of blogs and websites on the internet. But out of most content creators, only a few people focus on creating seasonal blogs.
If you want to know about seasonal blogging and what type of content you can write on these types of blogs, then keep reading this blog further.
What is a Seasonal Blog?
Seasonal blogs contain information about a product, thing, or occasion that occurs on a specific month or date. These blogs are a form of micro niche blogs containing information about a specific topic. These blogs are authoritative and rank quickly on the search engine's first page.
These blogs get high traffic during the time of the specific month in which your content has been focused, and rest of the year, this blog won't get traffic.
For example, Christmas is one of the most popular festivals in the world. Hundreds of countries celebrate it, and due to this, lots of people also engage themselves in searching for content related to this festival.
If you are interested in creating seasonal content, you can easily do it as a blogger. You can create a micro niche blog about Christmas and write, choosing a single topic from the below ideas.
Decoration ideas for Christmas.
Fireworks for Christmas.
Gift ideas for Christmas.
These are some ideas you can use if you want to create a Christmas blog on Christmas. Similarly, you can create a seasonal blog on any topic that people search on a specific month.
Benefits of creating a seasonal blog.
It is easy to create and costs less money to set up.
Gathering ideas takes less time.
You have to put effort into creating content for one time only.
Less competition so it can rank quickly and appear on the search results.
Here are some ideas for seasonal blog topics.
You can figure out the topic, whether a seasonal blog or not when you see a spike in traffic in a specific month.
Below are some examples of which people search during a particular month. Doing this lets, you see whether the topic is worthy of creating a blog.
1. School open days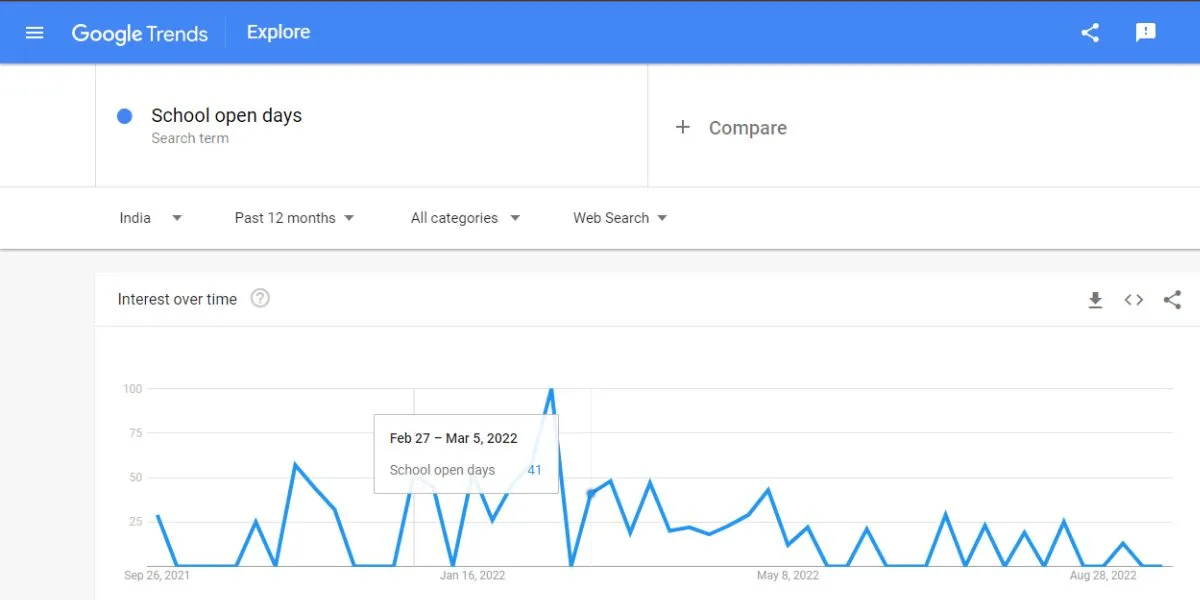 As you can see, the school opening is a very seasonal topic that people mostly search for after the session ends or during a long gap of school holidays.
You can create a blog and write about what people need to do on their first day of school.
2. Black Friday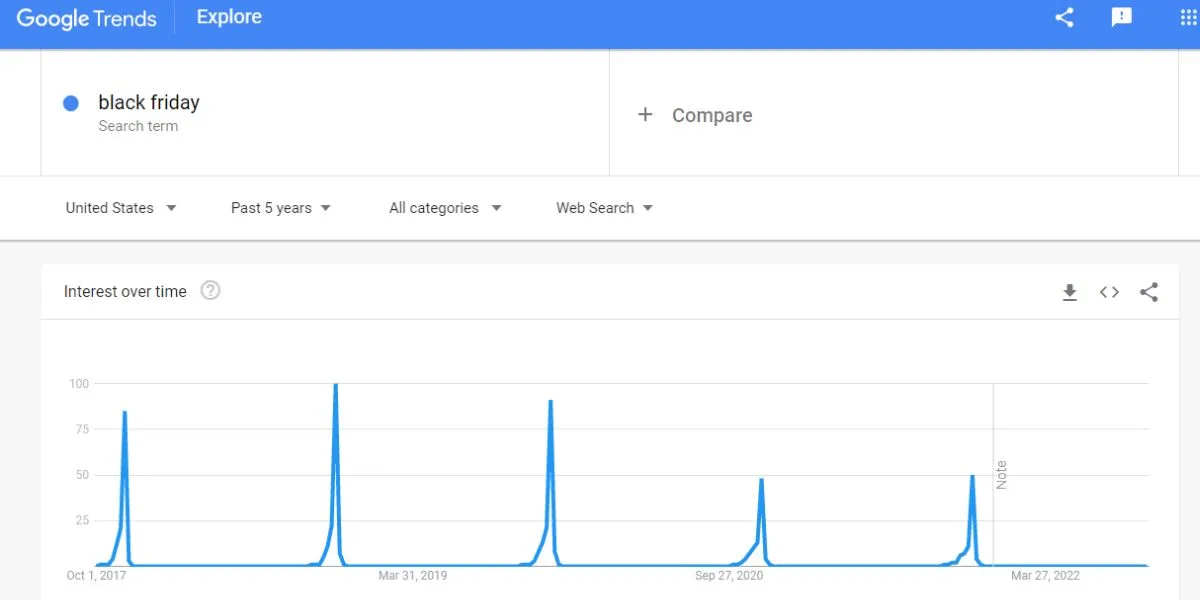 Black Friday is a sale where people buy goods at discounted prices. It is mainly observed in the 3rd or 4th week of November after thanksgiving.
Creating a blog and giving information about black Friday deals would greatly benefit you.
3. Diwali.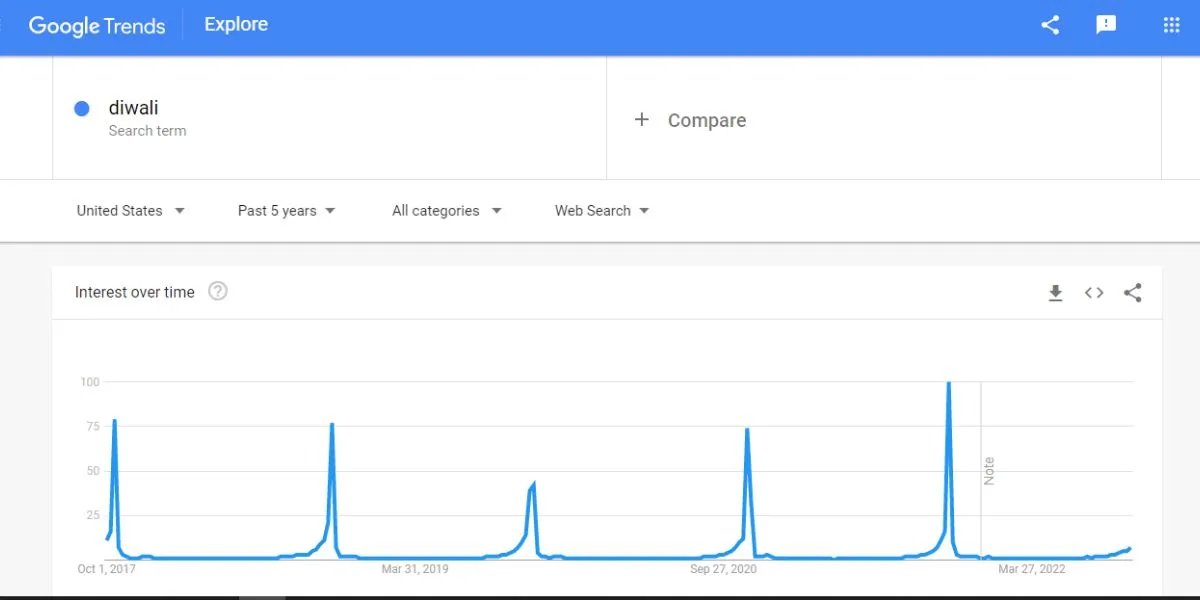 Diwali, or Deepawali, is a famous Hindu festival. It is the biggest festival of Hindus, generally celebrated in October or November.
During Diwali, people buy many new things, such as clothes, furniture, and electronic products. You can write about these things on your blog.
How to create a seasonal blog?
Today creating a blog is simple; you must buy a hosting plan. You even get a domain name free for a year with a new one.
I have used 3-4 hosting services in the past few years. But if you are on a budget, you can go for buying Hostinger's hosting plans.
Hostinger provides value-for-money hosting plans that are best for niche, micro-niche, and seasonal blogs.
I recommend you create a WordPress site as it is straightforward to access and control its content. Watch the below video to learn the steps.
Here are the steps you need to follow to create a seasonal WordPress blog.
Choose a plan that suits your budget. For better traffic management, choose the "Premium shared hosting plan," which will cost under $50/year.
Set up your website by choosing a domain name, installing an SSL certificate, and creating a WordPress dashboard.
Now design your blog in WordPress by adding a logo, navigation menu, and pages.
Now create categories and start writing your blog posts.
Buy Hostinger Hosting From Here
What is Seasonal Content?
Content popular for a particular time or during a season is called seasonal content. People search for this information if they want to know about any festival, event, or function that is upcoming or near.
Blogging about seasonal content is relatively easy if you are interested in it. The content on the seasonal blog is limited. You may have to write about 30-40 blog posts which can be produced in 1-2 months.
Here you have to work for a short period and let the search engines do their work. If you have some excellent research skills about the keywords, you may rank in the top positions.
Tips for writing seasonal content for your blog.
To write seasonal content on your blog, you need to follow some of the tips below. However, when you write content on your blog or website, follow the basic rules according to webmaster guidelines.
There are additional things you can do, such as.
1. Write deep and detailed.
As seasonal blogs are a form of micro niche blogs, you must provide information in the most straightforward way possible.
Cover all the questions and answer with examples.
Provide authentic images and videos.
Write an in-depth review after buying and using any product.
2. Find the best affiliate programs.
With seasonal blogs, there's one problem it won't get much constant traffic. Instead, it's peak season. So to get the best out of this and use this traffic, you need to find the best affiliate programs you can include with your content.
Don't be dependent on display ads and ad network platforms too much.
List of seasonal blog ideas.
Seasonal blogs can be made on any topic, but you have to ensure that the topic you have chosen should have basic things.
Good search volume.
Products that you can create affiliate links and promote on your blog.
A repetitive trend in traffic means people should search for that topic year-wise or season-wise.
You can create seasonal blogs on this topic.
Seasonal fruits and vegetables.
Movies, franchises, or series.
Festival.
Events.
FAQ about seasonal content and blog.
Are seasonal blogs different than multi-niche blogs?
Seasonal blogs are focused on one topic. Whereas multiniche blogs are focused on various topics.
Which hosting is best for seasonal blogs?
You can use hostinger when there are few visitors to your blog. After an increase in traffic, you can use cloud hosting, the digital ocean.