Here are some micro niche blog ideas that can help you start a blog. These ideas are per current technological advancements and trending topics and will update when new things are introduced in the technology field.
Micro niche blogs are focused on a single product or a topic that only has a limited number of readers compared to multi-niche or niche blogs. They are easy to create and rank easily on the search engine.
Micro niche blogs are easy to set up and require low investment. Also, you have to wait a while to see some activities to get visitors to your niche blog.
Must Read: What is a micro niche site? In detail.
Top trending niches.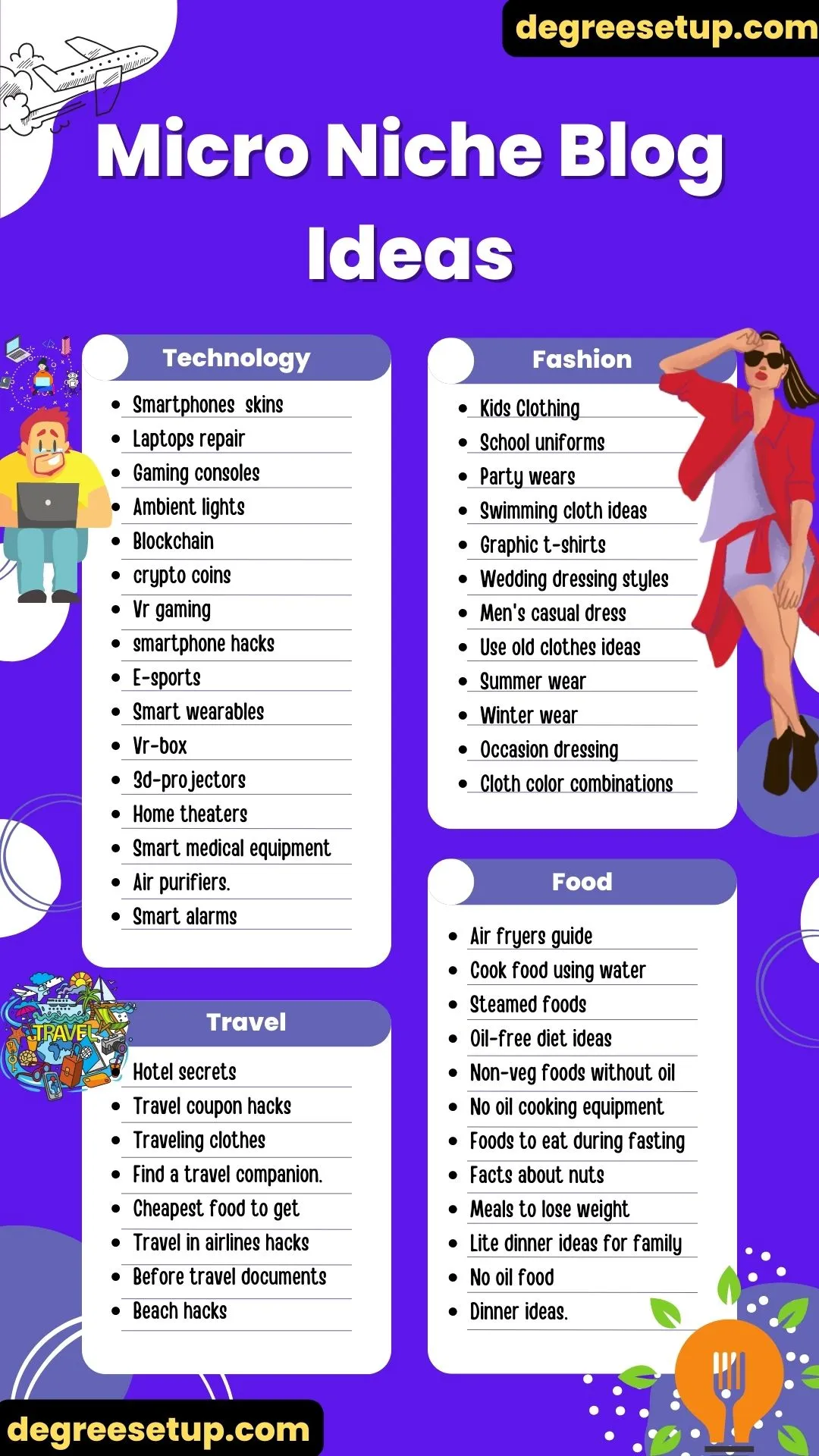 Here are the top trending niches you can choose to find a micro-niche on these topics and create a trending micro-niche site.
Technology.
Finance.
Fashion.
Crypto.
Blockchain.
Electronic vehicles.
Web 3.0,4.0 and 5.0.
Fitness.
Hobbie
Pets.
Consulting.
Gardening
Travel.
Sports.
Food.
Housing.
Online earning tips.
Create Your Micro Niche Site With Less than $50/Year Using Hostinger.
Some of the topics you may see are standard but low competition. Creating content on this idea will make your blog rank faster.
1. Gaming micro niche blog ideas.
You can start a gaming blog based on multiple ideas. If you love video games or have been playing them for quite a long time, you can easily create a blog and share the information with others.
Monetization methods – Affiliate links to video games and their accessories and display ads.
Gaming PC and consoles.
Gaming chairs.
Gaming keyboards.
Gaming laptop and monitor.
Gaming accessories.
VR gaming gadgets.
Android games for adults.
E-sports tournaments.
Gaming productivity.
2. Smartphone blog ideas.
Smartphones are trending gadgets. You can create a blog about them in various niches and show how expert you are in this field.
Monetization methods – Affiliate links of smartphone accessories and app promotions.
Smartphone covers.
Chargers.
USB cables.
Warranty voids.
Smartphone repair tips.
Smartphone heating causes.
Camera tips.
Mobile photography.
Second-hand and refurbished phones.
Smartphone camera lenses.
3. Fashion blog ideas.
The trend in the clothing industry is constantly changing every year, and if you know this industry, you can earn a massive amount by creating a helpful resource like a blog.
Monetization methods – Affiliate links from clothing sites and display ads.
Graphic t-shirts.
Cloth dyeing.
Wedding dressing styles.
Men's casual dress.
Use old clothes ideas.
Summer wear.
Winter wear.
Occasion dressing.
Cloth color combinations.
Travel clothes.
4. Sports blog ideas.
Sport is a fantastic topic, and if you are an enthusiastic sports person, you can write about many topics by starting a blog.
Monetization methods – Sports products affiliate links and ads.
Lose wights using sports.
Best sports for toddlers.
Baseball sports gear.
Cricket sports gear.
Soccer facts.
WWE facts.
Extreme sports.
E-sports.
Indoor fun sports.
Winter sports.
5. Kid's blog ideas.
People search for a lot of things about kids on the internet. Make sure to write real-world experiences about them on your blog.
Monetization methods – Recomminding kids-related products by affiliate blogging.
First day of school.
Breakfast for school kids.
Teether toys.
Rides for kids.
Milkshakes for kids.
What kids can eat.
How to make kids happy.
Educational toys for kids.
Soft toys.
Table habit for kids.
6. Bike blog ideas.
Every thousand people buy bikes. Most bike owners search about maintaining their bikes frequently. If you own a bike, your can share your ideas by creating a micro niche site on this topic.
Monetization methods – Bike accessories links from amazon.
Bike repair guide.
Bike tires.
Bike exhausts.
Custom bike designs.
Fuel-saving tips.
Bike color guides.
Bike repair tools.
Bike fancy accessories.
Superbike care products.
Second-hand bikes.
7. Parenting site ideas.
This one is for moms and dads. If you are a parent and want to share some tips about parenting on multiple topics, it's a great idea.
Monetization methods – Kids products and display ads.
A single mom lifestyle blog.
Working parents blogs.
Kids are not eating.
Make kids friendly.
Kid's co-circular activities.
Kids' future funds.
Education expenses.
Dad's guides for kids.
Make children happy.
Kid's school wear.
8. Tech repair blog ideas.
As people are becoming more dependent on technology, these blog ideas are best for people who love to fix things given below.
Monetization methods – Adsense and links to spare parts of products.
Earphone repair ideas.
Keyboard repair.
Wireless charger repair
Smartphone displays.
Smartphone charging port.
Laptop SSD
Monitor repair.
CPU fan.
Vr box repair.
Gaming console repair guide.
9. Smart devices sites ideas.
After 5-10, at least each house will have an intelligent device for cooking or entertainment. The most common smart devices we use today are smartphones, computers, and televisions. But apart from that, there are other things you can also write about.
Monetization methods – Affiliate marketing by reviewing products.
Smart air purifiers.
Smart kitchen equipment.
Smart fridges.
Doorbells.
Smart cleaner
Universal remote.
Smart AC.
Led lights.
Routers.
Cookwares.
10. Travel sites ideas
Hotel secrets.
Travel coupon hacks.
Traveling clothes.
Find a travel companion.
Cheapest food to get.
Solo traveling guides and hacks.
Travel in airlines hacks.
Before travel documents.
Beach hacks.
Best time to visit any country.
11. Music sites ideas
EDM Music Production.
Music studio setup at home.
Guitar blog.
Music video production tips.
Music production software.
Studio-quality mics.
Music production courses.
Earn money thru music production.
Speakers for music production.
Music production career.
12. NFT blog ideas
Become an NFT artist.
NFT art ideas.
NFT art-making software.
NFT design ideas.
NFT bidding tips.
NFT facts.
Uses of NFT.
Meme Ideas.
NFT artist bio.
NFT marketplace guides.
13. Content creator blog ideas.
Start a youtube channel.
Gears for content creators.
Lights for content creators.
SEO tips for content creators.
Instagram SEO tips.
Facebook ads tips.
Youtube channel SEO tips.
Planning tips for content creation.
Monetization tips for content creators.
Content ideas
14. Cooking outdoors.
Barbecue tips and recipes.
Firestarters.
Outdoor cooking reciepes.
Cooking stoves.
Knives for outdoors.
Cooking table for outdoor.
Cooking in RV.
Non-veg cooking tips.
MRE(meal ready to eat) for outdoors.
Outdoor water purifiers.
15. Indoor cooking blog ideas.
Gas stoves.
Dishes for microwave.
Food without oil.
Best cooking table.
Fastest food recipes.
Pans for cooking.
Best spatulas.
Non-veg food ideas.
Eat at night.
Brunch ideas
16. Electric vehicle(EV) blog ideas.
Ev batteries replacement.
EV chargers for home.
Fix Ev chargers.
Tires of EVs
Internet connection in EV.
How to wash EV cars.
Wash EV bikes.
EV range increasing tips.
Maintenance charges.
Open an Ev rental store.
17. Fishing blog ideas.
Best fishing rods.
Best fishing hooks.
Tips to catch fish.
Types of fish that can be eaten.
Tips to find a fishing area.
Fishing accessories.
Fishing boats.
Best chairs for fishing.
Hats for fishing.
Commercial fishing license.
18. Home Workout Ideas.
DIY workout equipment.
No supplement muscle-building tips.
No-oil food.
Cheapest workout accessories.
Pre-workout meals.
Home gym equipment.
Easy exercises for weight loss.
Yoga mats.
Work out in a small space.
Cheat meal ideas.
19. Tea blog ideas.
Tea flavors.
Teacups.
Open a tea shop.
Info about tea leaves.
Tea flavors.
Tea recipes.
Best things to eat with tea.
Tea brands.
Tea cutlery.
Tea cultivation tips.
20. Healthy food site ideas.
Air fryers guide.
Cook food using water.
Steamed foods.
Oil-free diet ideas.
Non-veg foods without oil.
No oil cooking equipment.
Foods to eat during fastings.
Facts about nuts.
Meals to lose weight.
Lite dinner ideas for family.
21. Monsoon season blog ideas.
Waterproof bags.
All about umbrellas.
Raincoats.
Backup power.
Snack to eat when raining.
Clothes care tips.
Best clothes for the monsoon.
Waterproof shoes.
Tea tips.
Best places to visit in the monsoon.
22. Shoe blog ideas.
Shoes for toddlers
Outdoor shoes.
Fix your shoe at home.
Sneaker buying tips.
Shoes for running.
Party wears shoes.
Shoes for the gym.
Specific brand shoe.
Budget shoes.
Industrial shoes.
23. Fitness blog ideas.
Fitness shoes.
Beginner exercise for weight loss.
Diet plans.
Workout clothes.
Natural supplements.
Fit bands.
Virtual Coaching.
Weight-gaining food items.
Food contents list.
Cardio for fitness.
24. Home renovation ideas.
P.O.P Designs.
Neon Lights.
Led Lights.
Stair designs.
Wall Color Ideas and designs.
Flooring patterns.
Door and windows designs.
Kitchen designs.
Bathroom tiles.
Kids rooms.
25 . Camping blog ideas.
Camping on RV.
Solo camping tips.
Camping tips for couples.
Best for campings.
Recipes for campers.
Camping with kids.
Teenager camping tips.
Trap tents.
Fishing tips for campers.
Mattress for campers.
26. Golfing Blog site.
Golf clubs.
Golf practice aids.
Drivers.
Golf wedges.
Golf facts.
Golf balls.
Best irons.
Fun golfing.
Golfing tips for kids.
Golfing for women.
27. Cricket Blog ideas.
Cricket facts.
Book cricket tickets.
How to win in cricket online games.
Gear for cricketers.
Beginners guide for cricket lovers.
Upcoming cricket matches.
Best cricket academy.
Cricket legends.
Crickets apps.
Merchandise.
28. Lawn caring blogs.
Lawn mowers.
Lawn designs.
Lawn grasses.
Flowers for lawns.
Pools for lawns.
Fertilizers for lawns.
Lawn sprinklers.
Leaf blowers.
Gloves.
Tools for lawn care(Sheers, Wheelbarrow, rake, etc.).
29. Winter home appliances micro niche blog ideas.
Room heaters.
Water heaters.
Ovens.
Compact dryers.
Slow Cookers.
Electric blankets.
Coffee maker.
Heating pad.
Humidifiers.
Air Purifiers.
30. Homebrewing blog ideas.
Brewing equipment.
Kegging equipment.
Beer making reciepies.
Wine-making tips.
Finance for brewing.
Legal advice for brewing.
Business tips for homebrewers.
Create Your Micro Niche Site With Less than $50/Year Using Hostinger.