An educational blog is mainly created from an informational point of view rather than making money from it. However, it does not mean you cannot generate earnings from your blog.
Here in this post, you will learn how you can easily create an educational blog and successfully run it. Also, here are some tips about content creation to give you ideas for the initial start of your blog. Let's check them out one by one.
Why Should You Create An Education Blog?
After 2019 online education boomed, and about 45% of students opted for e-learning platforms and sources. (research.com)
Education blogs are authoritative compared to other blogs are they have some research works and solutions.
If you know a specific subject or are pursuing P.hd or any higher degree, you can share your knowledge with a blog rather than using social media platfrom.
Educational blogs are helpful for students who are searching for answers about a specific subject or a topic.
These blogs can also be used as career guidance blogs where you can add content related to courses and certifications.
Steps To Create An Educational Blog.
To create an educational blog, you can use blogger.com or WordPress. Blogger is an entirely free platform, and you can use it using its subdomain or by adding your domain name at the price of $10/year.
I recommend using WordPress as it is easy to use and has many customization options compared to blogger. Also, more than 40% of websites and blogs all over the internet are using wordpress.
Let's see how you can create a blog and what you might need.
1. Register a domain name and buy a good hosting plan.
Think about a domain name that is unique and resembles your blog. The domain should have some connection with education or similar to that. To find domain names, you can use thesaurus.com, where you can quickly get ideas for a domain name using synonyms and antonyms.
When you decide on the last name of your blog domain, you can now buy hosting. The lowest web hosting price starts between $30-$40/year, and you also get a one-year domain name for free.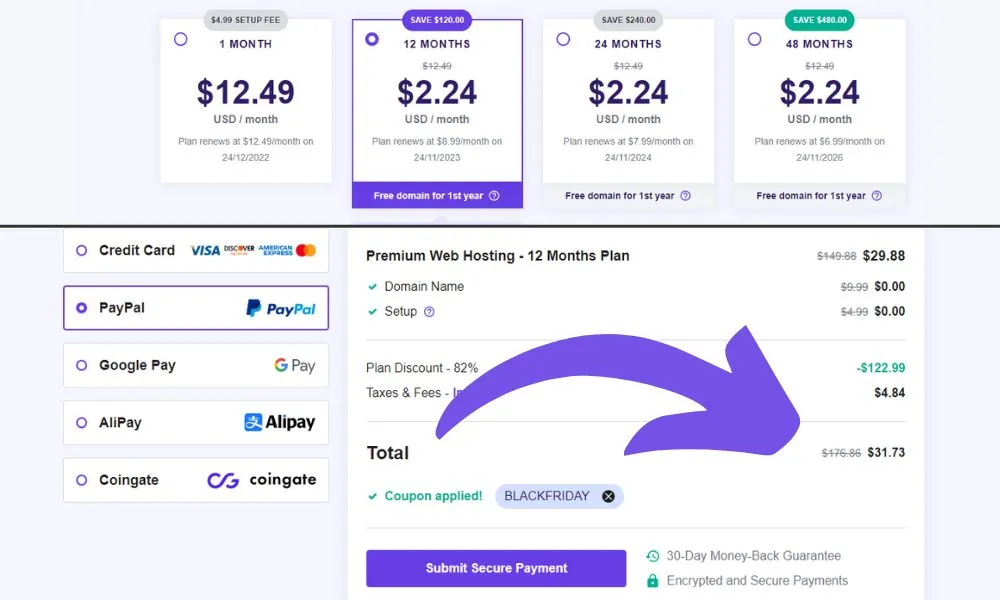 One of the best hosting plans is provided by hostinger. With about $31, you get 12 months of premium web hosting and the domain name. The prices may vary due to fluctuations in prices.
Checkout hostinger hosting plans
2. Install WordPress.
Now you have to install WordPress on your hostinger panel. It is quite an easy task. You follow the instructions on the video and are good to go. It is a process of 10-20 minutes, and WordPress will be installed on your hostinger account.
3. Choose a theme.
There are thousands of wordpress themes out there. You can choose a suitable theme that looks cool and simple to navigate for your audience. There are paid themes as well, which start at the price of $30-$40/yearly that has some advanced customization options.
4. Design your blog.
After choosing a suitable theme for your blog, it is time to design it. This is quite simple as you have to add things like.
Logo.
Menus.
Pages.
Blog style.
Footer, etc.
Make sure to add cookie consent and privacy policy on your blog. You should write the privacy policy or terms and conditions when you add. Don't generate it using automated generators.
These are the steps you can use to create an educational blog and other types of blogs.
How To Gather Content For Your Blog?
For an educational blog, you need to make a plan for content creation. If this is your first blog, choose a topic that is easy to write and has less or normal-level competition.
To gather content ideas, you can do small surveys and ask your near ones what content they like to read on your blog. You can use social media such as Twitter or Instagram to do this. With the help of 40-50 people, you can get your first content idea.
In an education blog, you can write things related to:
Career guidance.
Any specific subject, such as(Biology, Astronomy, Chemistry, etc.)
Study hacks and tricks.
College reviews and admission process.
Exam guides.
E-learning.
Distant courses.
See the complete list of educational topics here.
Read these tips carefully to follow some initial content ideas for your educational blog.
Make a list of trending topics – For educational topics, you can watch the news and keep an eye on what's trending online related to education. For making a list of the topics, you can use google trends and other paid tools such as Semrush or Ahrefs to get the data.
Know your expertise – Now, you have to find which topics you like to write about. In an education blog, you must be comfortable and write things you know. If your knowledge is limited, try to enhance it by reading books and studying intensely about the topic.
Write content that no one has written – Here, I am not going to tell you that you have to start writing with the low-competition keyword that is outdated now. Even if you write about popular content, show your original work there, as search engine loves the originality of your content with defiantly rank. Focus on content cluster means writing multiple pieces content about a specific topic.
How To Make Money From Your Educational Blog?
Making money from your educational blog is a similar practice that is done on other blogs. Here are some products that can be used to make money.
Courses – The best way to earn from an educational blog is by selling educational courses to the readers. You can create a short course or a big one according to a type of syllabus and sell it on your blog. But before doing such things, make sure to build trust among your readers with your blog.
Info products – Digital products like e-books, cheat sheet and small video tutorials can be a great way to share exclusive information in small amount. Keep the prices of these products affordable as more and more people can buy all these things.
Affiliate links – Links to products like books and stationary items can be a great way to make money from the blog. But make sure not to do this too often and fill your content with the links.
Ads – You can join platfroms like Ezoic or Adthrive to show ads on your blog. Other than that you can also show local level ads on your website directly.