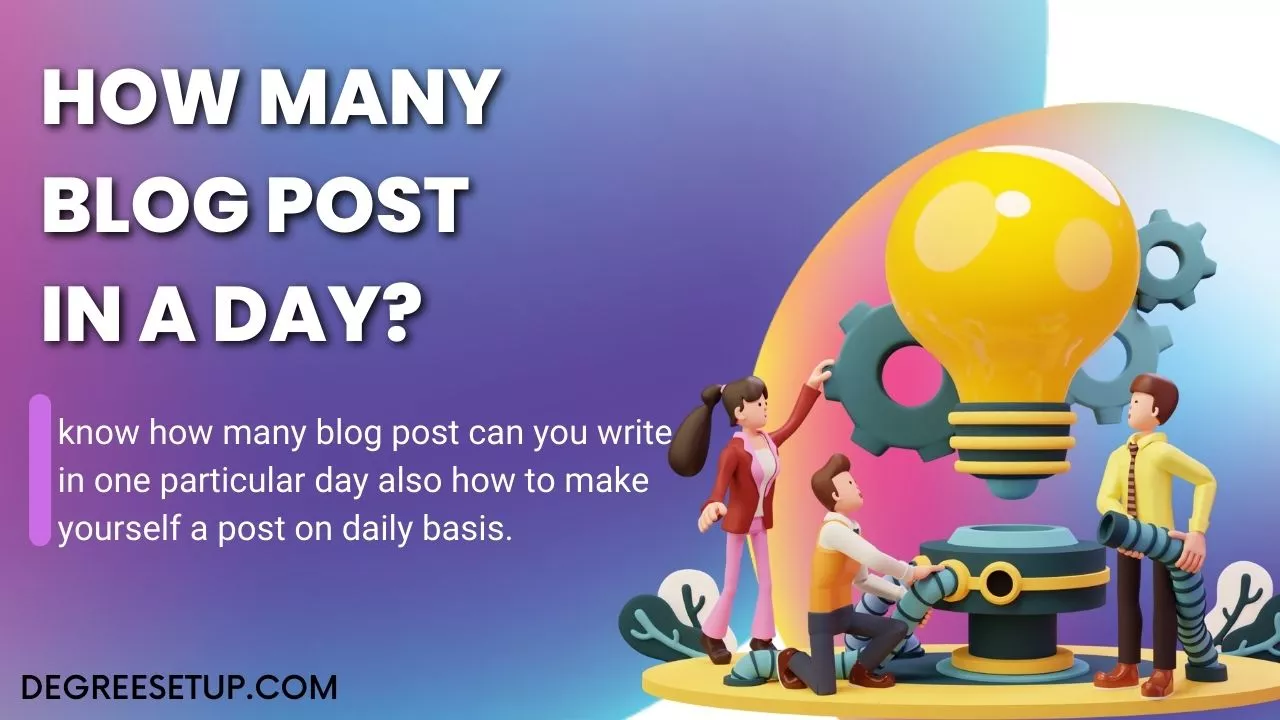 If you are a content writer, you must have gone thru this question. How many blog posts can you write in a day, and what are the best ways to write the most content in a single day?
I will help you get the maximum productivity for writing blog posts thru this post.
A single person can write about 3-4 blog posts containing 1200 words per blog post. Writing blog posts or articles depends on the writer's experience, typing, and editing speed. It would take 1-2 hours extra for beginners to write a blog post compared to experienced bloggers.
There are many other things that you should know if you have just started blogging. While writing blog posts, primarily new bloggers make many mistakes.
To avoid that, you can look at many essential things in detail.
How many blog posts can new bloggers write?
Writers who all are creating content with experience below six months cannot write that much compared to experienced ones.
As per the analysis, if I count hours of a full working day of 7-8 hours in that particular time, a beginner blogger will write 1500-2000 words.
New bloggers can initially face many difficulties while writing the first few blog posts. As they don't have much experience writing content for the web, the content will have some significant errors.
Related: Is blogging profitable?
Here are some primary difficulties faced by new bloggers while writing blog posts.
Slow typing speed – For new people, those who have not found typing on a keyboard will take at least 2-3 months to make your handset on the keyboard. Learn to type fast.
Not doing proper SEO – The essential SEO tips are here to read. Use SEO-friendly content, catchy headlines, alt text, short paragraphs, and good-quality images.
Using big paragraphs – To engage your readers, it's better to use shorter paragraphs containing 25-30 words each.
Not adding proper images – Most new bloggers use low-quality images to save space in hosting and make their image load faster, but search engines will not rank them on the top if you use low-resolution images. Also, avoid using stock images for better ranking results.
Poor call-to-action signals – You must add a call-to-action button to conclude any blog post. It can be anything an affiliate link, a related post link, or any info product. A call to action is a must to increase ROI.
How many blog posts should we add to the blog every day?
There's no limit to creating content on any social or internet platform. However, as a content writer, I would say a single person can add up to 3 blog posts with quality daily information.
Here is the table you can see below and know about much to write on your new blog and if your blog is old.
| Blog/Website Age | Number of blog posts to add |
| --- | --- |
| 0-3 months old | every day until your blog has 45 posts. |
| 3-9 months old | every alternative day till your blog has 100 posts. |
| 1-2 years old | Three days a week. |
| 2-3 years old | Two blog posts in a week |
| 3-5 years | There is no limit to adding new content, but updating old content is necessary. |
blog writing frequency
When I started blogging, the first article I published on Blogspot was about 800 words, and it took me around 6 to 7 to write and edit. As my typing speed was too slow, this was hard for me.
My typing speed increased and enhanced with time, and now I can write two blog posts daily. However, as I also started outsourcing content, I can now add 5 to 6 blog posts daily.
If your blog has become old now and you earn a decent monthly. Outsourcing content is the best option available. Doing so will help your blog grow more.
Should we write blog posts daily?
When you start a new blog, it is evident that you should write the blog post daily. Doing this will help your blog for better rankings on search engines.
You should write content daily if you own only one blog and have no plans of making another website and blog. Make sure to add new things to your blog to make it worthwhile. So your readers get engaged.
For writing a blog post daily, you can follow these tips.
First, research about the topic that you are willing to write.
Make sure to do a competitive analysis.
Get 10 – 15 topics to write.
Start writing on one topic daily.
Do this until you write 30 – 45 blog posts.
After writing 30-45 blog posts daily, you can write content on alternative days or outsource it from any content writer if you earn money from your blog.
How many blog posts do professional bloggers publish daily?
I went to several famous blogs, including tech, food, travel, and niche-based blogs.
Here are several things that I have observed.
Tech bloggers need to update and write new posts daily or every week. Most tech bloggers post content in articles that mostly contain words between 500 – 700.
Food bloggers need to update their images and add new recipes in the form of new content to compete with others.
Travel bloggers must also find new places to write about every next day.
Niche site blogs are slow in growth and contain specific information that needs to be updated with time.
Professional bloggers do not write most of their content after a certain period. The best thing they do is outsource the content or buy it. Their blog runs on automation; however, they do not give anyone admin rights.
How can you work on a professional blog daily?
There are no rules for blogging, and anyone can do it. There are generally two types of bloggers. The first are full-time bloggers, and the second are those who blog as a hobby.
If you come under the second category and want to expand your blogging career, you must add content to your blogging site.
You can give around one or two hours daily to writing a blog post.
You can take help from your family members to type your ideas.
Open your blog during your free time and write 200-300 words.
Once you get good results, you can increase the setting for writing blog posts.
Working people who all a day job get time only on weekends. If you are interested in blogging after having a job, it will be easy for these people to write at least one quality blog post a week.
How many blog posts should your blog have?
There is no fixed number of content that a blog should contain. Depending on your niche and your content-adding speed, you can post as many per your potential.
After analyzing the same famous blogs, they have 200-300 posts on their blog. Some of them are short content, and some of them are long forms of content.
Most bloggers delete their old posts if they won't get traffic from them or merge it with a single post. Conclusion
Writing a blog post takes time, and not everyone can do it. However, if you understand this as a serious thing and work smartly on it, you can produce more content easily.
Most new bloggers don't know how to write content and execute their blogging journey as new writers. I also made many mistakes in the past few years of blogging, but I always learned new things and corrected them.
Can you add a blog post before making your blog live?
It would be a great strategy to have initial content before you make your blog publish on the internet.
If you want to know how many posts you should keep ready, my suggestion would be about 5-10 posts. If you publish too many blog posts, some may not do well, even if they are low-competition content.
After publishing the content, you can wait a month to see which type of content is doing well on your site and create similar content on that niche.
To know more, keep reading my blogs on degreesetup.com.
FAQ about writing daily blog posts.
How many blog posts are published every day?
According to various statistics, 8 million or more blog posts are published daily.
How many people can write a blog post?
Two or three people can work writing a blog post at a time, including a content writer, graphics designer, and SEO expert.
How many blog posts be published each month?
On average, 20-30 blog post is good to publish each month to make a successful blog.