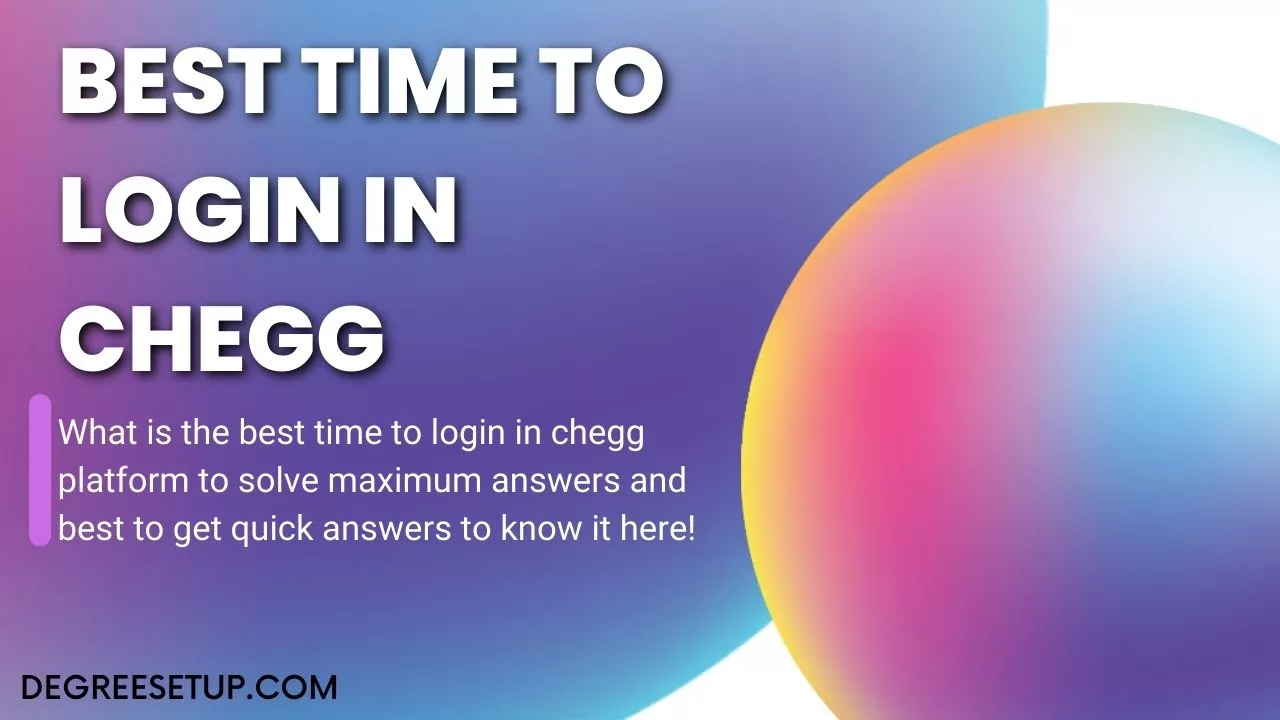 Once you join Chegg as an expert, it's time to give answers and make money. But most people face problems as they find it difficult to find questions on Chegg. Today in this blog, I will help you out when you can get more questions and what is the Best Time To Log In to Chegg.
The best time to log in on Chegg is between 11.00 am – 9.00 am (IST), as, at this time, most people post questions. As the majority of students belong to western countries like USA and Canada. You can solve a maximum of 20-30 questions daily, depending on your expertise in your subject.
If you got your answer, that's great!
Or else you can read further details about the best time to log in to Chegg.
Related – How much does it take to get an answer in chegg?
Best Time To Login in Chegg
As an expert, the best time to log in to Chegg is between 11.00 pm to 9.00 am, according to Indian Time Standard. During these hours, students post most of the questions.
Because most students are from the United States, there's a considerable time difference between India and the USA. That's why you should log in between these hours.
Best Days To Log In Chegg
You can expect to get a question on the following days given below.
Monday – 11.00 am – 9.00 am
Tuesday – 11.00 am – 9.00 am
Wednesday –11.00 am – 9.00 am
Thursday – 11.00 am – 9.00 am
Friday – 11.00 am – 7.00 am
Saturday – 11.00 am – 7.00 am
Usually, most questions are submitted on Monday, Tuesday, and Wednesday on the first three days of the week. On Mondays, you can expect to get a considerable number of questions.
As schools open after the weekend, students get new topics and homework on Monday, so they tend to ask more questions on these days.
Taking about the rest of the three days, which are Thursday, Friday, and Saturday, students have to submit their assignments on these days. So the frequency of questions on Chegg decreases.
Read: How to calculate CF score on Chegg?
Best Months To Get Most Questions On Chegg
As most questions are asked from the USA in Chegg, it is better to know which months are best to work to get questions.
The academic year in the USA starts in August or September and ends in June. So, you may be getting the most questions during these months.
But for better understanding have a list for you.
Best months to get most questions on Chegg
July
August
September
October
Feb
Mar
April
May
As you see in the above list, you will get most of the questions on Chegg and making money in these eight months.
Apart from this, the remaining months are November, December, January, and June. I would not say you won't be getting questions in those months, but the probability becomes very low.
If you get 200 questions/day in July, you will hardly get 20-30 questions/ in December.
How many Questions Can You Solve Per Day?
Solving questions of Chegg depends mainly on three things.
Your knowledge about the subject or a particular topic.
The volume of questions on a particular day.
The time you have logged in.
But not all people are geniuses, and they want an exact answer. From my point of view, 60-70% of people on Chegg only joined this platform to make some extra money, not as a full-time job.
And some of them have a day job, making it hard for people to solve the question on Chegg.
But still, if you work 2-3 hours at night efficiently, you can make 5-6 questions and 90-100 questions a month, giving you an alternative source of income for your other expenses.
How To Awake At Night To Solve Most Questions.
I will not advise you to change the daily routine you have been following for the year just for money.
Still, if you want to do it, here are some you can follow to do your job seriously.
Tips to be awake at night.
Complete your sleep cycle, which is at least 6 hours per day.
Drink coffee after dinner to stay awake.
Please don't listen to soft music because it will make you sleep.
Stay on, Chegg. Don't watch movies or anything; meanwhile, you search for questions.
Things You Should Take Care of Before Logging in Your Chegg Account.
You take care of some things to solve most questions on Chegg at night.
So before logging in, you take care of the things.
Your internet pack.
Stationery items in case you solve the question on the paper.
Use your laptop at night or submit answers on your phone if there's any power outage in your area.
For more information, visit –chegg.com.
FAQ about Best Time To Login In Chegg
Which is the best device to login into chegg?
You can use any device, such as a laptop, PC, or smartphone, but the laptop is more convenient.
What is the best time to get questions as an expert?
The best time to get questions is from 10.00 PM to 8.00 AM (IST). Make sure to login in during these hours only.
What is the best time to login into chegg as a student?
Students can post questions and get their answers between 2.00 PM to 11.00 PM (EST).