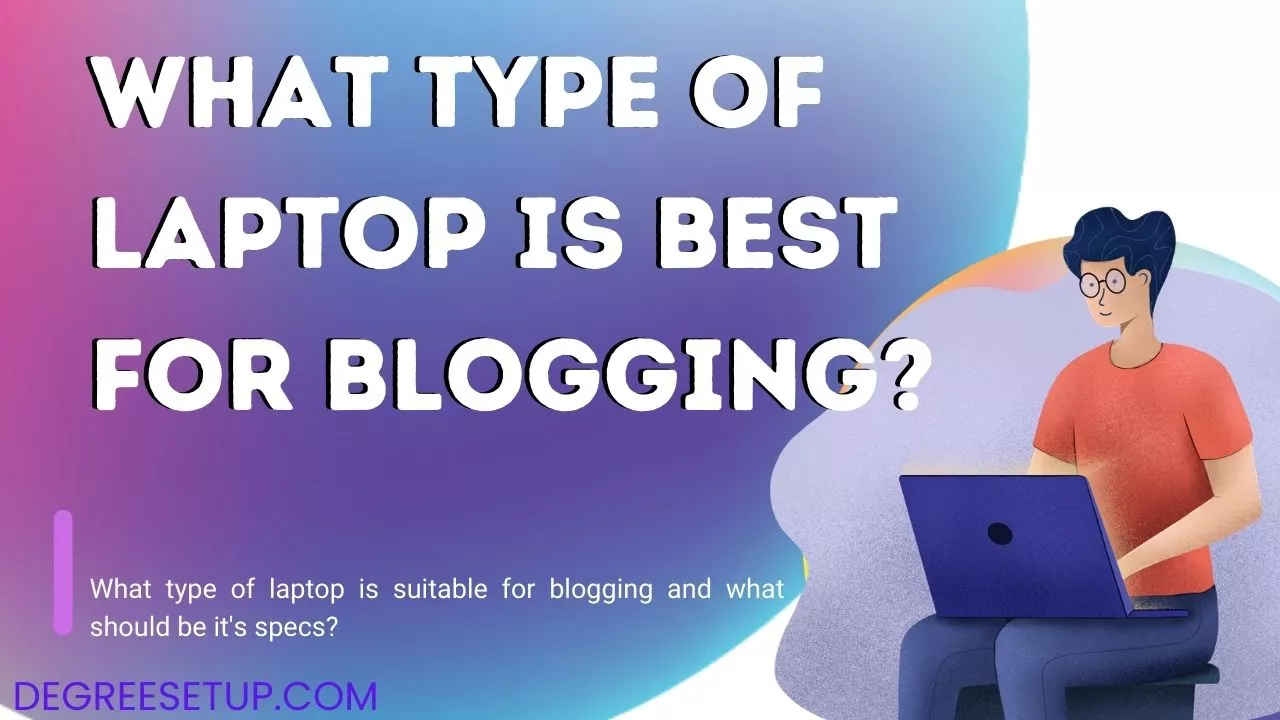 Do you know what laptop is best for blogging and content writing?
If you want to start your blog and looking to buy a laptop, this post can help you. When looking for the same information on the internet, I almost got the same results from most websites. They were recommending be top best laptops, but the information was partial.
So I decided to research and write my piece of information that will help you if you consider buying a laptop.
A laptop with an i3 processor and 4GB of RAM with software such as google chrome, Microsoft office, and some other images and text editing software installed to fulfill the minimum requirements for blogging. The price range of these laptops starts from $350 and goes up to $700.
Checkout some best laptops for blogging on Amazon
That is what a laptop should have for blogging. You can continue reading further if you want more information about this topic.
Read: Things to do before giving a laptop for repair!
Laptop specifications for blogging.
Blogging mainly includes writing content, and simple image and video editing, so you don't have to do heavy work on your laptop.
Here are the laptop specifications in detail. Along with that, I have also included the prices of the products that you can check out.
Processor.
The laptop's processor is responsible for carrying out multiple programs simultaneously. To start blogging, your focus should be on buying at least an i3 processor laptop or a higher processor than that. You can also go to buy AMD processors.
The processing power is needed to run applications like chrome most of the time. So an i3 laptop between past three generations can easily handle it.
RAM.
The minimum requirement for RAM for blogging is 4 GB, but as per the current trend, It is highly recommended to buy an 8 GB RAM laptop or buy a 4 GB RAM stick and upgrade your laptop. Previously I used a 4 GB Ram laptop for blogging, and it efficiently handled everything.
Disk Space.
You should avoid buying a laptop with a hard disk drive(HDD) as they are outdated and should go for buying a solid state drive(SSD) laptop. SSDs are faster, and they better handle the programs also; they are power efficient.
Battery
A laptop is better with a battery life of 5-7 hours, as writing a blog post typically takes 1-3 hours. So with that much battery life, you can quickly write 2 posts daily.
Keyboard and screen
Buy a laptop with a screen size of the laptop that has15 inches or more so that you can get a bigger keyboard. More oversized keyboards are convenient for typing.
Software, online programs, and application.
Chrome.
WordPress.
Canva.
Cloudflare.
Google Analytics.
Google search console.
How much money do you need to spend on a blogging laptop?
If this is your first time buying a laptop, you should keep a budget of at least $500. This much money will be sufficient to satisfy your blogging needs.
Apart from this, you can also buy a second-hand laptop with the same budget of $500. You can get a high-end specs laptop on e-bay or any store near you.
Make sure before you buy a second-hand laptop to check the laptop before paying the entire money.
Is a laptop important for blogging?
Yes, laptops are more convenient compared to smartphones or personal computers. There are multiple reasons for that.
Laptops are portable.
You need less space.
Content creation is easy on laptops, such as typing and basic video editing.
How to buy a laptop for blogging?
You can go to an amazon store or the best buy store to buy a laptop. Also, check online e-commerce sites if you can buy online.
Make sure to do these things before you buy a laptop for blogging.
Check out experts' reviews on youtube.
Read customer reviews on websites.
See the specifications.
What are some best laptops for blogging?
If you want to buy a laptop for blogging, MacBooks win the game. They got all the features that bloggers need. The best things about MacBooks are they never hang or perform slowly while you do your work. Unlike windows laptops, what I have personally experienced.
Other than that, there are some windows laptops that you can check out.
FAQ
Do you need to buy a new laptop for blogging?
If your old laptop has 4GB Ram and a good processor, you can start blogging with your old laptop. No need to buy a new one.
Can you use a Chromebook for blogging?
Blogging is 100% done online, so you can also write blogs on it.