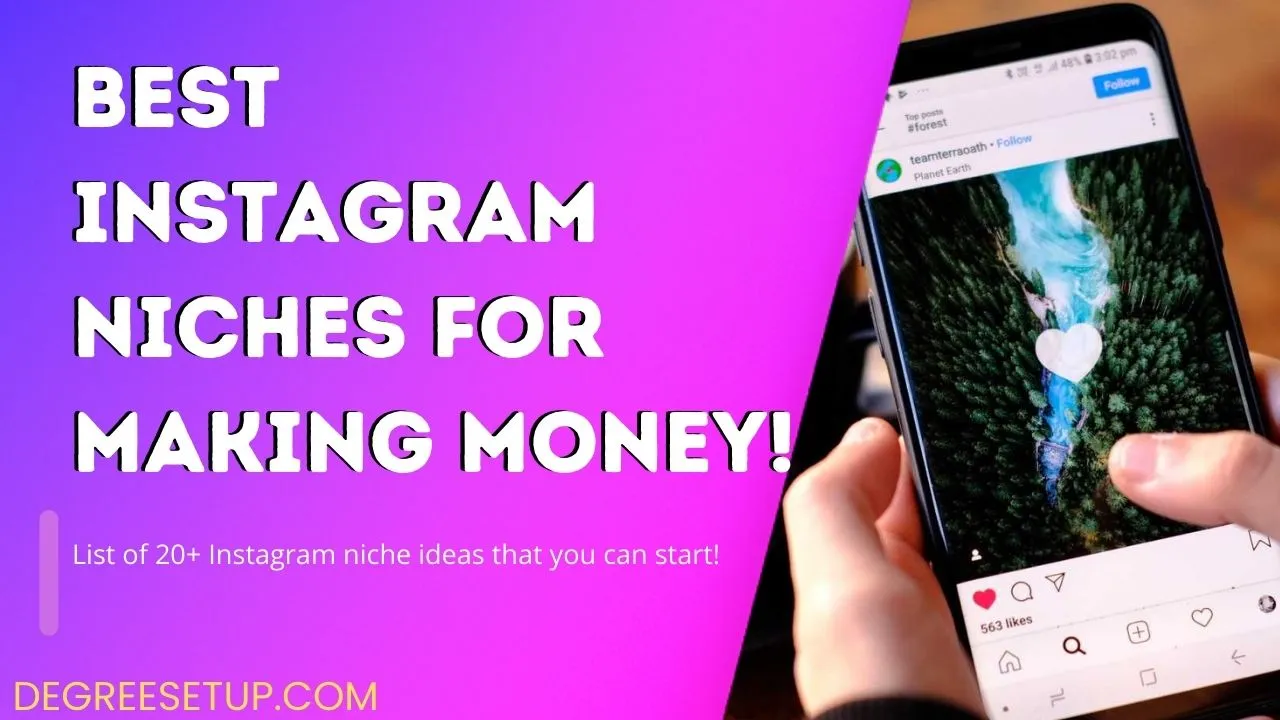 Instagram has billions of users worldwide, and it is one of the most. It is the fourth most used social media platform after Facebook, Youtube, and Wattsapp, with 1.2 billion monthly active users.
These social media platforms run on three things.
Content created by people.
For the people.
Note: Be careful while choosing a topic.This blog post or website does not guarantee of success or making money from any of the topics. It depends totally on your efforts putting how you put content online. Some of you can take months to generate income online.
If you want to work on Instagram as a creator, you need to have content creation skills by which you can create posts and short videos on this platform.
To become a content creator on Instagram, you should have three things.
Idea.
Image editing skills.
Video editing skills.
You can create an Instagram page on any topic, or if you have difficulty finding a niche for your Instagram page, you can see the ideas below.
These niches are based on current and future trends, so if you create your pages on this topic, you may have a chance to make the most money from them.
1. Fashion.
Fashion is one of the best niches for creating an Instagram page. As people find new things about fashion daily, this niche is best if you understand the style, fashion trends, also what people want to add to their wardrobe.
Fashion niche topics for Instagram.
Streetwear.
Affordable clothing.
Wedding dresses.
Formal clothes.
2. Food.
People like watching food-related posts on Instagram; this can be a good topic for you if you are a foodie. You can quickly get images or click photos on your own for your Insta page. Here are some topics that you can cover on a food blog.
Street food.
Diet healthy food.
Special occasion foods.
3. Health.
Health and fitness are growing topics. As people depend more on technology, most don't pay attention to our health and fitness due to fewer physical activities. You can share tips about healthy food or fitness if you love exercising.
Healthy lifestyle.
Yoga.
Healthy food.
4. Bodybuilding and gymming.
Bodybuilding and gymming are the most searched things on Instagram, mainly by youth, and if you love gymming or are a professional in this field, then it is a must for you to have an Instagram page. You can share tips and teach how others can build a good physique.
5. Luxury.
You can share posts about luxury products such as cars, watches, perfumes, and clothes. It doesn't matter if people are rich or poor. Millions of people may follow your page if you post good content about this topic.
6. Beauty.
This is a women-centric topic, but men are also interested in getting tips they can use to look good. You can share tips about skincare and products that people can use to look good. Things you can recommend.
Chemical-free beauty products.
Home-made beauty products.
Haircare.
Skincare.
7. Automobiles.
Bikes and cars can be exciting topics. You can create a facts page or information page about any single brand car, bike, and upcoming future concept vehicles. In this niche, you can earn money thru affiliate products such as.
Bike riding gears.
Car accessories.
8. Pets.
Pets are adorable, and many people watch videos and photos about them on Instagram. You can create a blog if you own a pet or are interested in sharing your knowledge about pets and how to care for them.
9. Technology.
You can add posts such as smartphones, laptops, and smartwatches in technology. People are curious about these things today, which is the best topic you can start on this platform. But make sure you may also face a lot of competition in this.
10. Blockchain.
Many people still don't know what blockchain is, and if you have deep knowledge about this topic, you can use it and simplify the topics by creating posts on Instagram. You can create content about this tech's crypto, NFT, and future uses.
11. Memes.
Meme pages are the most popular pages on social media. Almost every social media platform has thousands of meme pages. If you have a great sense of humor and editing skills, you have to create memes on social media.
12. Movies.
People like to see movie updates on social media platforms. Movies lovers can start movie updates pages that have some exciting updates and news about upcoming movies.
13. Adventure sports.
If you like adventure sports, you can start a page on this niche and include the best places people can visit and do adventure sports, exciting facts, and famous people in this field. You can create content about various sports that includes.
Mountain biking.
Bungee Jumping.
Skydiving.
Scuba diving.
14. Business.
These days people are most focused on starting their own business. You can compile information from various sources about business-related topics and create posts about business-related ideas. Today so many people are looking forward to starting their startup.
15. Local pages.
Local pages are the best to make yourself famous thru social media locally. You can create posts and share information about news or upcoming events which is going to happen in your city or nearby area. Also, you can create job update posts on a local level.
16. Motivation.
Sharing quotes and videos on your page by some famous personality can be a good idea. You can also include movie scenes but make sure to do this legally without any copyright issues. To do this, you may need some video editing skills.
17. Digital skills.
Today it is a must to have digital skills such as video editing, image editing, content writing, web designing, coding, or any other skill that requires computer knowledge. If you have done work in the past, it can be a good idea to share it with others. You may also teach others how they can grow on social media.
18. Kids and parenting tips
Kids' pages can include things like toys, education, and rhymes. Make sure to create content from the parents' point of view because they will use social media, not the kids. This is the best niche for parents as they can share what things they need to go thru while raising a child.
19. Fan pages.
If you are a die-hard fan of any celebrity or sports personality, you can create reels or posts from their speeches, movie scenes, or any video. People like to follow their favorite personalities that they admire. For example, there are thousands of fan pages of Christiano Ronaldo on various social media platforms.
20. Video games.
The gaming industry is booming, and people are choosing to play video games as their profession. Creating a page about gaming and video games can fill your pockets if you are a die-hard gamer.
21. Art and craft.
People who like creating portraits and art such as drawing or painting. This could be a good Instagram niche for them. However, creating original work of yours could take time. But if you share good content, you will see growth fast.
22. Life hacks.
There are thousands of videos about lifehacks on the internet. Many people follow them and see videos just for enjoyment and fun. You can create life posts on Instagram on anything, such as.
23. Education and facts.
You can create a page about any specific subject, for example, chemistry, biology, or any other subject you are interested in, and share the latest information about various topics and facts related to specific topics.