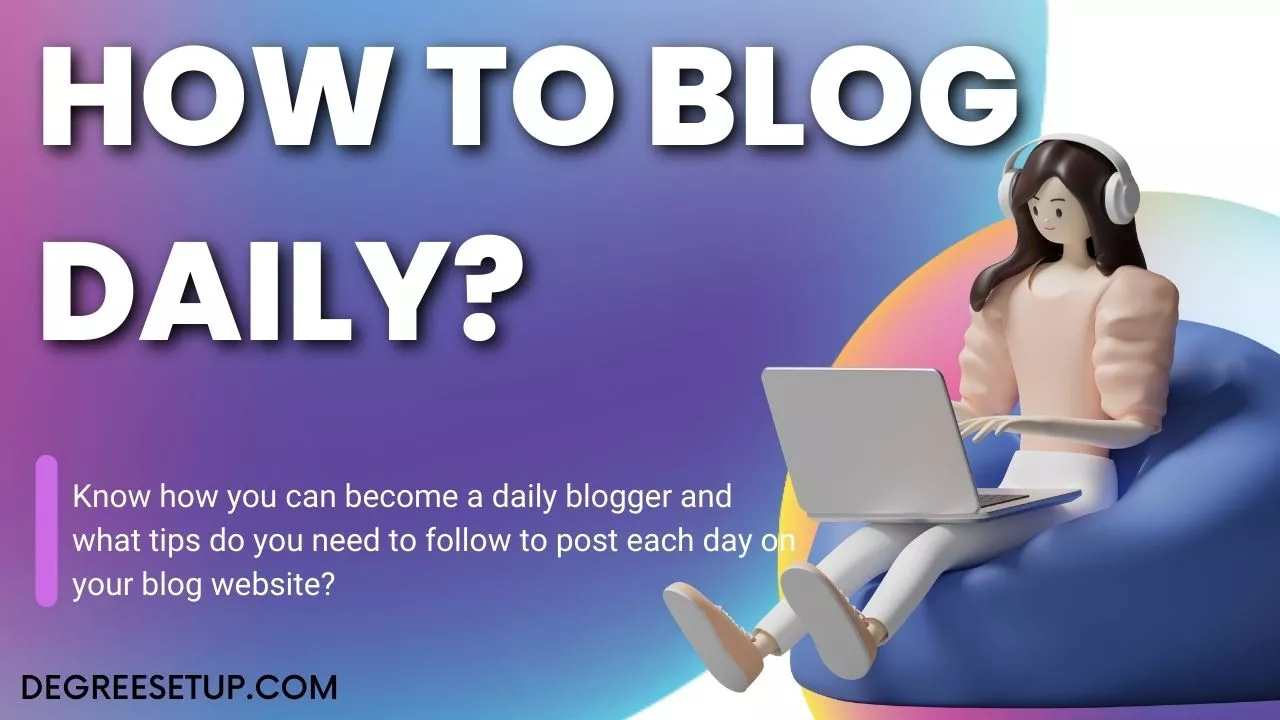 Most of us get tired of writing blog posts daily; if you are not writing daily, it may be the biggest reason your blog can fail because some other person might be writing similar content elsewhere.
If you have recently started your blog, write daily, as it will help your blog grow much faster.
There are many advantages of blogging daily, and it implies on every platform, such as social media platforms.
Here are some advantages you will get if you blog daily.
Your website traffic will increase.
More content means people will spend more time on your site.
Your audience will get something new every day to read.
Your rankings will increase as more content appears on the search results page.
There are a lot more benefits if you write content daily. But to make that happen, you must know some tips to help you post a new blog post every day.
Must read: How many blog posts can you write in a single day?
Tips on how to blog daily.
Follow these tips to make your habit on daily writing new blog posts. These things will take your time to adapt but will help you make your blog successful.
1. Make a weekly plan.
Before writing content on your blog website, prepare your weekly plan. Preparing your weekly plans will make things relatively easy for you.
Here is what you can do to create your weekly blog post writing plans. Find a keyword. For example, here I am taking the keyword " dog harness. "
Now find related keywords to this keyword and write at least 5-6 blog posts in a single week. Collect information in detail about dog harnesses, such as their price, how to use them and what breeds of dog require it the most.
This makes you write about every topic related to a single keyword, and ultimately your authority on the site increases with time.
You can use these two things to make your weekly plan.
Read: Resources to start a blog.
2. Look out for competition.
After making your weekly list, it's time to analyze the competition. To do so, read the tips below and create your content so it will be hard to beat.
Look how much your competitor has written, such as words, use of images, placement of images, and type of images.
Read your competition post and figure out the loopholes that have not been put in their content.
Write more words than your computer has written, but it does not mean you can write anything on your blog. Make sure it should have relevance to your topic.
Use original images in your articles and post. As many people use stock images, it can be easily outranked.
Timely update your content.
3. Gather the information.
After getting all the possible keywords, gather information about the topic you are willing to write about.
Here's what you need to do to gather information and add up to your content.
Look for information published on government websites.
Collect the data.
Get information from stats websites such as statista.com.
Summerise the gathered data and write the information in your words without plagiarism.
4. Write smaller paragraphs.
During the initial days of blogging, you will be able to write only small amount content and gradually move to write content sitting for long hours.
However, when writing content, use smaller paragraphs containing only 20-25 words. Because today most users read the content from their smartphones. And if you write content with huge paragraphs, readers can get bored quickly.
You can use images and infographics to support your content in between paragraphs. Also, using smaller paragraphs has many advantages.
Makes your content look bigger.
More ads are shown on your content help out to increase your revenue.
Readers get engaged easily.
5. Follow the 45/15 rule.
If you don't know about the 45/15 rule, you must miss out on one of the best rules to be productive on anything.
The 45/15 rule is mainly used while studying and is one of the best ways to study. 45/15 means you have studied for 45 minutes and taken 15 minutes break. During this, you can memorize the things you have studied in the last 45 minutes.
However, here we are talking about blogging and content writing. So while writing the content, you have to apply the same rule.
Write for 45 minutes and check and edit the content for about 15 minutes, or you can rest. When your website or blog is fresh and when you edit the first content, this trick will significantly help you.
Using this rule, you will never feel bored while writing the content and become and productive blogger.
6. Give yourself a break.
Taking a break from each task makes your mood fresh. And blogging is a job where you have to sit in front of a screen for 3-5 hours daily on average. Spending that much time in front of a screen is not good; in that case, the best thing to do is take a break.
Should you blog daily?
Blogging daily is good, but if you don't have anything to write, just don't do it unless you get a good topic you have some expertise and knowledge. Instead, you can update your old posts and add more value to it.
Focus on quality of you information not on quantity.
FAQ about blogging daily
Is daily blogging good?
Blogging daily is good as people get new content each day, and visitors also get fresh content from the creator.
How much time should a beginner blogger spend daily on writing blogs?
As a beginner, you need to spend 3-4 hours writing on daily basis.