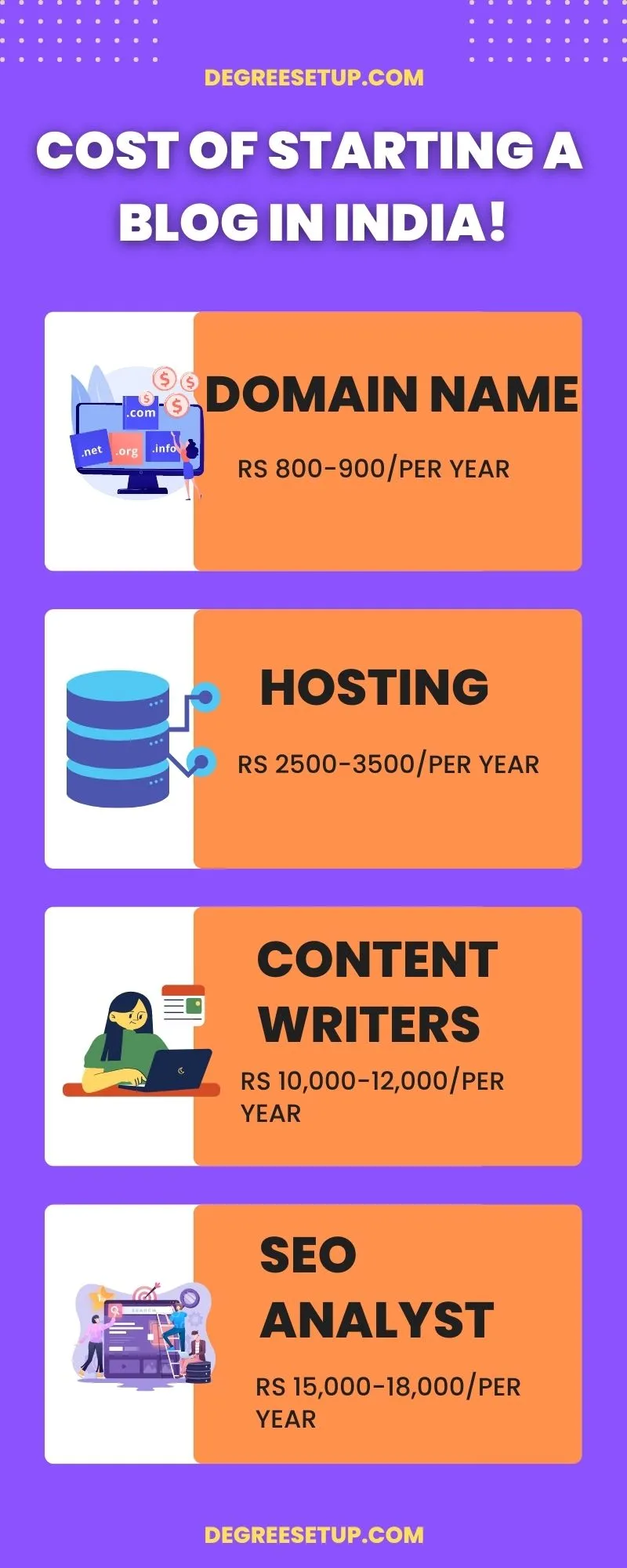 If you want to start your blog, there may be many questions coming into your mind about this topic. Many people want to start their blogs but take steps back because of the fund issue. Today here, you will get to know the exact cost details so that you can start your blog in India.
So how much does it cost to start a blog in India?
To start a blog in India costs it can cost between Rs 2200-3200. You must buy a domain name that costs around Rs 800-900 and a hosting plan that comes in 1000-1500. You can also use blogger.com by buying a domain name, but using a self-hosted platform is much more convenient than using an outdated one.
I have written about some of the important reasons why you should not use blogger.com if you want to do blogging. Read the article "valid reasons why you should use blogger" by clicking here.
These are the current price if you want to start an entry-level blog. The prices of hosting and domain changes with inflation.
If you want more information about this topic, you can continue reading further for more details.
Things required and detailed cost to start a blog.
The requirements are different for different people. There are two types of people who want to start a blog the first ones are individuals, and the second ones are business owners.
Individuals – Students, working professionals, and housewives are the ones who are interested can start their blogs. These people can learn to blog and manage their blogs.
Business professionals – Business owners, shop owners, and other people who own small companies can start a blog on their existing website or create a new one. They must hire designers, content writers, and SEO experts to create a blog.
Cost to start a blog for individuals.
| Things required | Cost |
| --- | --- |
| Domain and hosting (For the first year) | Starting price Rs 2200 |
| Domain price (Renewal price) | Rs 900/per year |
| Hosting price(Renewal) | Rs 2700/per year |
| Website premium theme(optional) | Rs 5000/yearly |
| Total | Rs 8000/per year approx. |
Cost to start a blog for business owners.
| Things required | Cost |
| --- | --- |
| Domain and hosting (For the first year) | Starting price Rs 4700 |
| Domain price (Renewal price) | Rs 900/per year |
| Hosting price(Renewal) | Rs 7200/per year |
| Website premium theme(optional) | Rs 5000/yearly |
| Web designer | Rs 5,000 – Rs 12,000 |
| Content writer | Rs 12,000 – Rs 15,000 |
| SEO analyst | Rs 15,000 – RS 18,000 |
| Digital marketer / Social media marketer | Rs 10,000 – Rs 12,000 |
| Total | Rs 50,000 – RS 60,000/per year approx |
To start a blog in India, business owners need to invest a good amount to create an online presence ASAP. As they have to handle their business, they have to make they're automating their blog or hire content writers to create content daily.
On the other hand, individual bloggers have to learn web writing, SEO, and graphic designing skills to create compelling content that can compete with others. Developing these skills can take about 3-6 months, but this is worth it as you will get a chance to learn new things.
How to start your blog?
To start your blog, here are the steps you can follow.
Step 1 – Buy hosting and domain using hostinger.
Step 2 – Select your hosting plan according to your budget.
Step 3 – Add to the cart and make the payment.
Step 4 – Now set up your hosting by the login.
Step 5 – Choose a domain name.
Step 6 – Now, create a WordPress website by choosing a theme.
Step 7 – Finish domain registration by filling up your details and installing SSL certificates.
Step 8 – Login to your WordPress website.
Step 9 – Add pages and navigation menu.
Step 10 – Add favicons and logos and add a theme.
Step 11 – Install elementor and edit pages.
Step 12 – Create categories and start adding your blog posts.
How to learn to blog?
To learn to blog, there are multiple platforms, and the content available on them is free and paid. The free courses are primarily available on youtube, and paid ones are available as courses on a dedicated website.
You can learn blogging quickly from these platforms for free.
Hubspot.
Ahrefs.
Skillshare.
The majority of courses that I have watched and learned blogging are from youtube. You can learn from a basic to an advanced level within a few days.
Is starting a blog profitable in India?
As India is among the top developing countries, the earnings from blogging here are less than in Western countries like the United States and Canada.
If in the USA if a blogger generates $20-$25 from 1000 visits to their blog. Similarly, here in India, you need to get atleast 4000-5000 visits to make $25, about Rs 2000, from your blog.
It does not mean that, here in India, blogging is not profitable. The main advantage in India if you own a blog is here.
The volume of searches performed is high compared to any other developing county.
There are more than 900 million internet users in India. (Statista)
Affiliate marketing is the best way to earn from your blog.
Indian people have started reading the blog, and the trend is increasing.
Internet is cheaper in India, so internet search and use cases are higher than in any other country.
Some of the profitable niches for blogging in India.
Jobs and education – Each day, millions of people search for job vacancies and degrees and certificates they should have to get a job. Most Indian blogs are spammy and related to jobs and provide false information. You can rank on top if you can fill this gap and provide legit information.
Religion and festival – India is filled with regions in each state; people follow different cultures and regions. You can create a local blog in your mother language or Hindi, which about 45% of people speak in India.
Movies – India created most of the movies compared to other countries worldwide. If you like to write about them, go ahead with their high number of searches about them.
Wedding – Indian spend a lot of money if they have a wedding or marriage ceremony at home. You can create a fully dedicated blog about this topic and get traffic millions.
To know more about niche blogging, you need to check out this article I have written. Micro niche blogging click here to read.