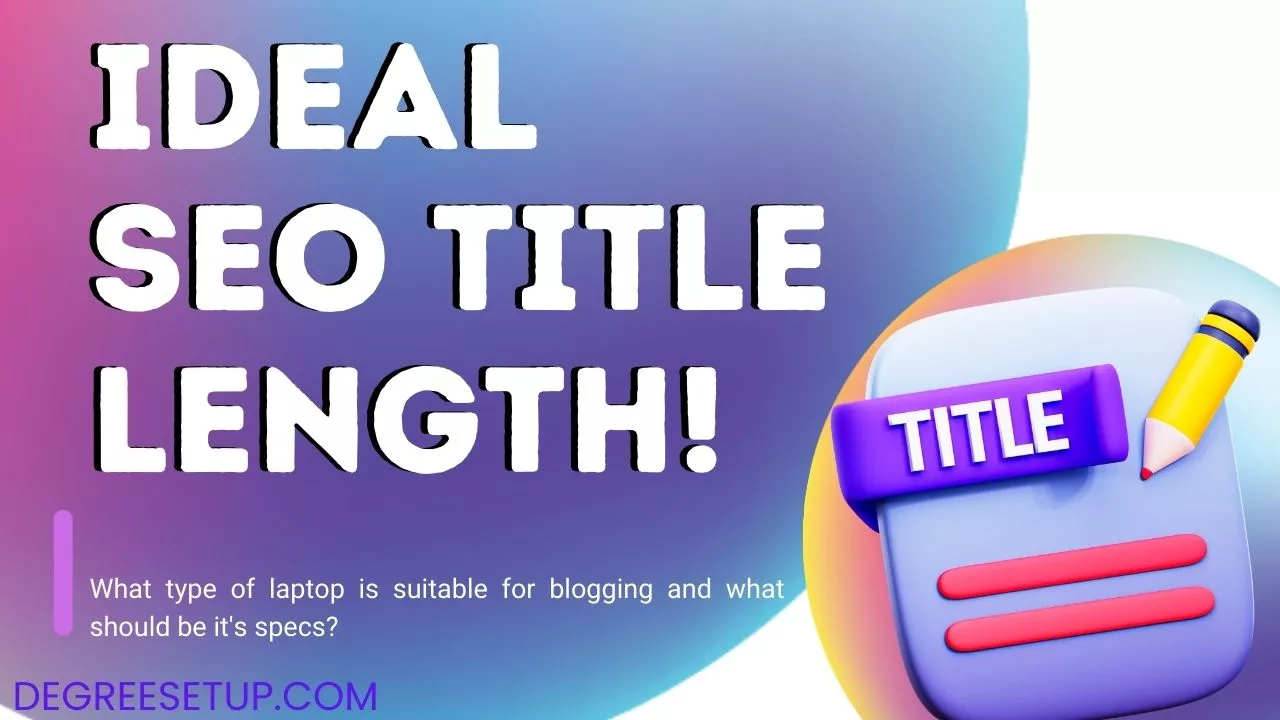 If you are new to writing blog posts or articles and need information about ideal SEO title length, reading this post till the end might solve all your queries.
From an SEO perspective and per google search central, the SEO title length should be short and give quick insight into the content a user is looking for. However, Google never mentioned the word limit of the titles.
Google has never disclosed how many characters you should use on your blog and article titles. However, in the SEO starter guide, multiple practices have been mentioned for writing the title.
Writing descriptive and concise titles.
Keep the characters between 50 -60.
Use simple words.
Keep the main keywords at the beginning.
Note: Writing a better SEO title helps to gain organic traffic and increase click thru rate of the content.
As per SEO companies(SEMrush, Ahrefs, Yoast, Rankmath, and Moz), the ideal title length for a blog post and article is between 50-60 characters, consisting of about 10-12 words. This character limit has been set because only 60 characters are visible to users in search engines.
Let's see more details about how you can write a better title for articles.
What should be the title length for SEO?
The blog post's title above contains only 55 characters and ten words. Here I have used the rank math plugin to calculate the word length, and if you're using any other SEO plugin such as Yoast or All in one SEO tool, you can get this option there too.
How to write a good title for blog posts and articles.
Writing titles for a blog post is part of search appearance as per google. This means you are writing to make users click on your site to get information.
For that, you need to follow some rules for writing a good title for readers and users.
1. Write descriptive titles.
Your title should convey information about the content that you have written. To write a describable title, make sure to use these words.
How to
What are
Various ways to fix
Where you can.
Simple
Also, it should be concise and to the point, which means it should be simple and easy to read.
Suppose you are writing a blog post about school bags for an 8-year-old. Here are some ways you can write the title of this post.
What type of school bags should an 8-year-old carry?
School bag buying guide for 8-year-olds?
2. Keep it short
The science behind writing short titles is that it is easy to read on the search results. Also, writing a short title makes your title looks promising. However, you can use it on certain types of blog posts.
You can use it mainly on list posts. Here are examples of how you can write titles.
Best mic for podcasting at home under $100.(43 characters)
Best knife for cutting chicken for everyone. (43 characters)
If your title is big, try to write the primary keyword in the beginning. The primary keyword below is web 3.0 change the internet.
How will web 3.0 change the internet? Know the effects? (use this title)
How will the internet change, and what effect will we see after web 3.0? (don't use this title)
3. Avoid repeating words
Using repeating words on your title is not recommended. It makes your CTR low, and people won't read your blogs.
Also, avoid using synonyms of similar words. Here are some examples that you should repeat while writing titles.
Dirt bike cost – How much does a dirt bike cost?
Smartphone cover prices – Prices of smartphones covers
Instead, you can write simple search terms such as "How much does a dirt bike cost?"
What should be the meta description legth for SEO?
A meta description is essential to SEO and lets readers know about the particular page or article.
If you have written a good and engaging meta description, users may click on your post to read more about the topic.
Generally, meta descriptions are auto-created in WordPress or any other CMS you use. But you can manipulate it and write your meta description using some plugins.
How to write meta descriptions for your titles?
To write meta descriptions, I have used the Rank math plugin here. Write meta descriptions on your blog posts. Here are the steps.
Install the "Rank math plugin."
Go to the post you want to create a meta description.
On the right side, click on the rank math option icon.
Now click on the "edit snippet" option. A box will be open.
At the bottom, you will find a box where you write meta descriptions.
In that box, you will find that you can write only 160 characters, about 20-25 words in the box. This is important because those many words are only visible in search engines to users.
Meta descriptions are auto-generated, but you can write your own by making them useful for the users.
How to write permalinks for your blog posts?
As per jhon Meuller, "Url length does not matter, and we use URL as identifiers. It doesn't matter how long they are.
Also, URL length and slashes do not effects ranking. So if you are using a long URL, you don't have to worry.
If you have duplicate pages, in that case, the pages with short URLs will appear or rank faster on the SERP.
Tips for writing permalink.
Keep it descriptive.
Include keywords if possible.
Keep your keywords short if possible.
FAQ Ideal SEO Title Length
What is the recommended length of a title?
Between 50 to 70 characters.
Does a long title affect SEO?
Yes, if your title does not have the correct information about the content, it might not show on the search results.
Are longer titles better for SEO?
If the content is long, you can use longer titles. But the main keyword should be in the beginning.