We all know that a google search console is an excellent tool for fixing errors in our website and blog. I open this platform each day to see how my blogs are performing and what the ar errors I got to fix. If you own a website, the Google search console is the first platform you should reach out to for doing SEO on your site.
There are too many paid keyword research tools on the internet, but many people don't want to invest in them due to low finance. And these tools are pretty expensive for a new content writer.
In this post, you will learn how to use the google search console for keyword research.
But there are some conditions you can use these free tools to find keywords.
Your blog/website should at least be 5-6 months old.
The content on your website should be more than 20-30 posts.
You should have traffic above 1000 page views per month.
Recently search console came up with two new updates.
One update with help you to find keywords.
One will make things easier for you.
You can read the documentation about the latest update in the search console from here.
Must read: Can you buy organic traffic?
4 Steps To Use The Google Search Console For Keyword Research.
Step 1 – Visit the search console and navigate to the Performance tab.
Look for the search results option in the performance tap.
The search results option changes the duration from 3 months to 28 days.
Step 2 – Choose the new option.
In the New tab, you can see four options.
Step 3 – Find the keywords.
In the query, you get four options. You can choose anyone as given below.
You have to choose queries containing options.
And Make sure not to choose any other option.
Now in the box, you have entered the word. For example, I have entered "What," so it will display all the queries people search on the web.
You can see in the below image all the queries came in the form of a list related to the particular term I searched. Similarly, you can use "how," "when," and "where." As these are primary search terms.
I have hidden the search queries due to privacy issues.
Step 4 – Comparing two queries and taking action.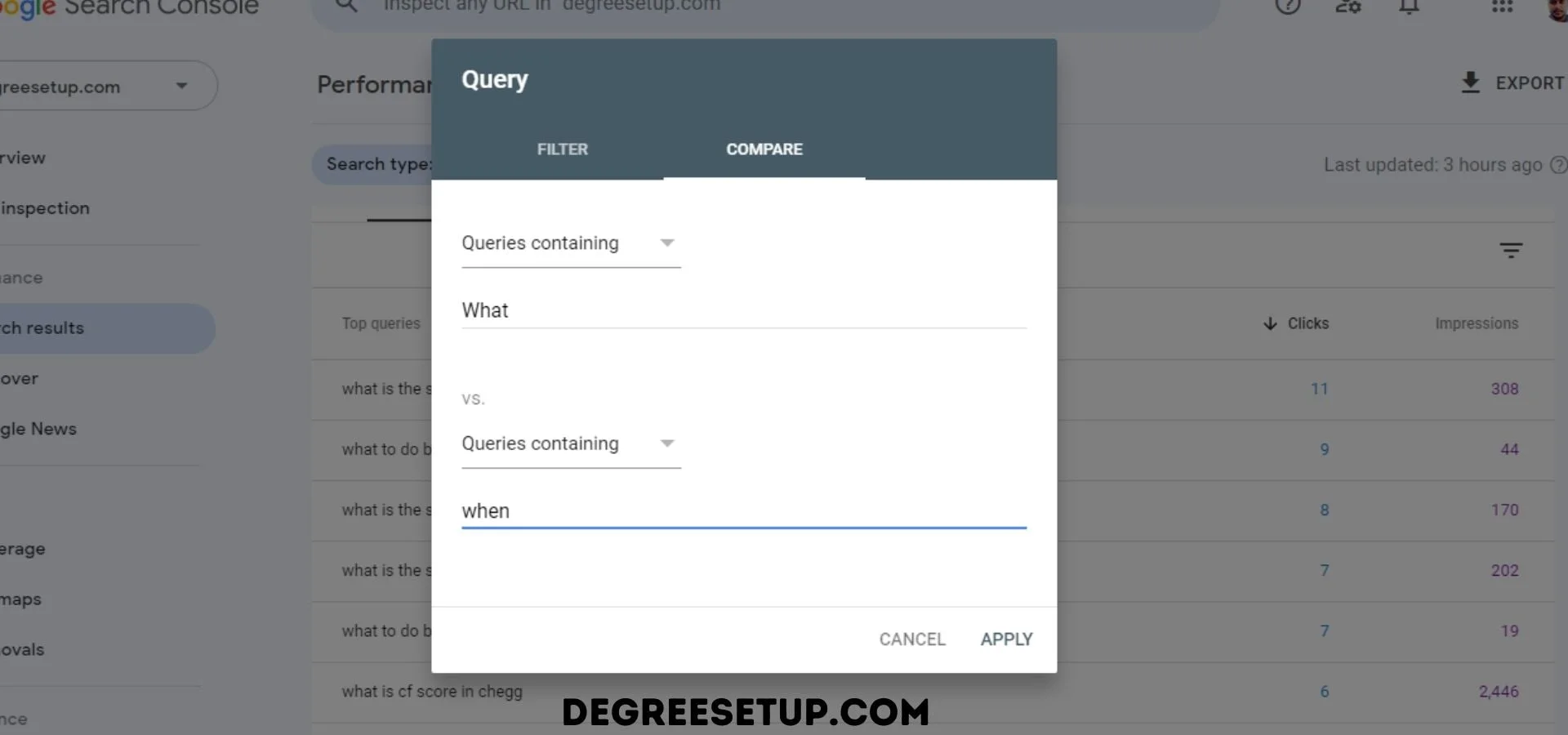 You can also compare two search terms and figure out what people are asking more.
As you can see, people ask more questions with the "What" search term compared to "When."
You can export all the questions and start writing content similar to these queries.
Use search console insights
Another alternative tool you can use the google search console for keyword research is search console insights.
Just click the search console insight option and you will see new many options.
Scrolling the page, you will see the option "Your most popular content".
Clicking the option you will see the most searched keywords that your content is ranking for also its position on the SERP.
Things to do after keyword research.
Once you get the keywords through the search console, you can do several things with your gathered keywords.
Note: The keywords you are getting come from what people are searching on the search engine, and they are clicking your site because you have created the similar content that they are searching for.
Write a new blog post.
After getting the keywords, look at them carefully and decide whether you need a new blog post or not.
These things may help you decide if you should write a new blog post.
If your older content to a similar keyword is ranking in the lower position.
Look for the competition and get the latest information about the related keyword.
Make sure to take references and information from authoritative sources.
The new blog post should not have similar content to your older blog posts.
Update your old posts by adding the queries.
The keywords or queries you will get on the search console will be related to your old blog posts, which may signal that you have not answered some of the questions users were looking for.
Suppose you have written a blog post about "cat shampoo price" and missed writing about 'best cat shampoo under $20."
You can add this query to your older blog post using an H2 heading; hence, you will also rank for other search terms.
Add FAQ's
If the query is concise, you can write it as a FAQ using any plugins like Rankmath or Ultimate FAQ. These are concise answers which help you boost your site's traffic.
Conclusion
The Search console is not a keyword-finding tool. It helps in auditing the websites. However, let's see how this new update will help other creators. This feature was previously available in google data studio; however, many people don't know how to access that.
But with the new filtering option, it will be easy for content creators to know what their readers are searching about.