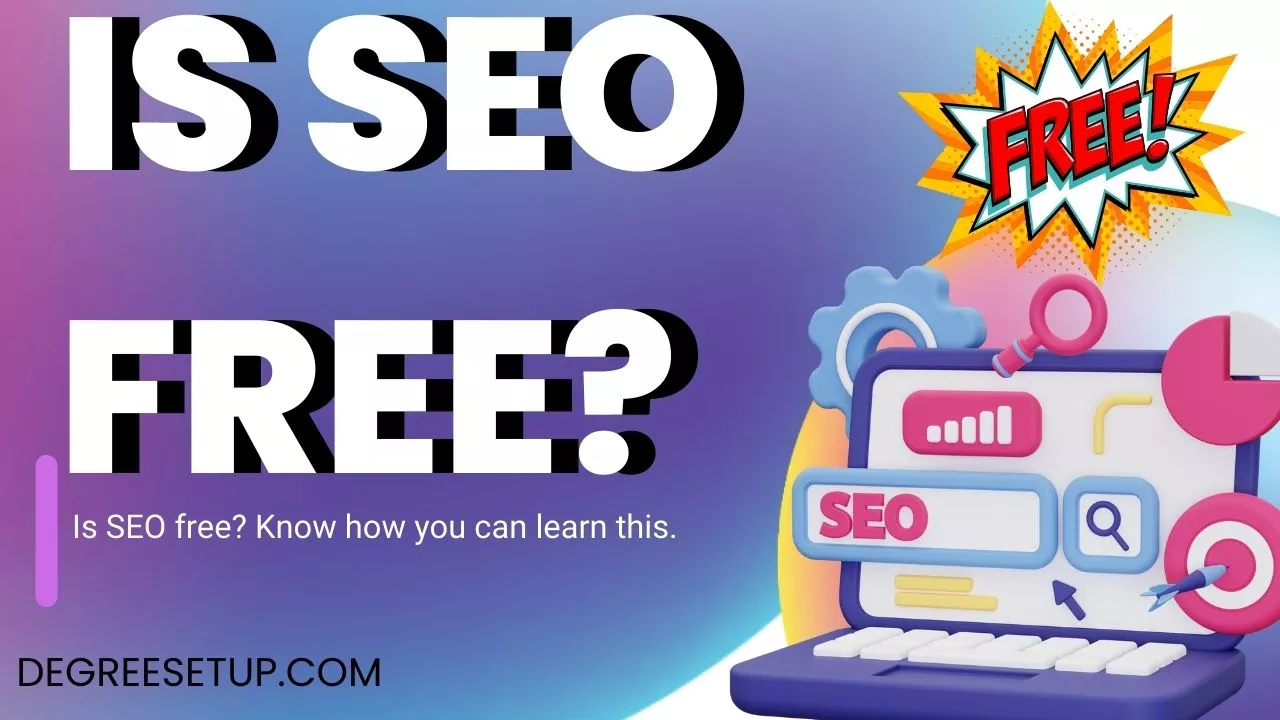 Search engine optimization(SEO) is one of the best techniques every individual wants to know about. However, many new bloggers and content writers think that SEO can only be done using paid tools, and there's no free alternative.
So now you may have many questions related to free SEO and how you can do it.
SEO is free and always will be. Some specific tools such as SEM Rush, Ahrefs, Moz, and Ubersuggest charge money to perform SEO on websites and blogs. However, learning SEO for free takes certain investments, such as time, money on, resources, and creating a website.
Only 30%-40% of individual bloggers and small companies use SEO, and the rest of 60%-70% of people don't know or use SEO on their websites and blogs. (The manifest)
Must read: How to learn SEO writing?
Do search engines charge money for SEO?
The majority of queries and searches are performed on Google. That's why more than 92% of people use Google to search for what they want. (Statista)
The search engines do not charge money for SEO, especially Google. Instead, they have all the resources for free that you can use to learn SEO.
Search engines have specific guidelines that content creators must follow to index the content appearing on search engine results pages.
Google or any other search engines like bing and yahoo do not charge any money to show your content. However, Google has AdWords. Most companies use that to show their platform in the top positions. But that is entirely different from doing SEO.
Are there any free SEO tools?
There are more than 100+ free SEO tools that you can use to make your content better and rank it on google.
Some of the best SEO tools are from google, and I frequently use them to find keywords and write content.
Here is a list of the best free SEO tools you can use. I have also mentioned for what purpose I use them.
There are other SEO tools that I occasionally use, such as the free version of SEMrush, which helps me to figure out my position and what other competitors are ranking for.
But if you are a new creator, focus more on creating content and then on doing SEO on it.
Can you do SEO on your own?
Learning SEO is not an easy job. You have to go thru a lot of practical writing to master this. As SEO is a significant part of digital marketing, you must also go through the basics of digital marketing.
Here's the road
When I started blogging, I didn't want to invest money in expensive courses. Luckily, one day, when I was searching on youtube, I learned about the fundamentals of digital marketing courses by Google.
Here are the best tips you can follow to learn SEO on your own:-
Learn the basics – Know how the search engine works and how you can publish content on the web.
Create a blog – Use blogger first, gather some funding, and start a website on wordpress.
Write content – based on your niche, find keywords, and write content that has not been published.
Perform Seo as per guidelines – Read essential to advance guide.
Learn from your mistakes –
See analytics – See analytics and write content accordingly.
When you should you pay for SEO?
There are multiple occasions when you can not do SEO on your own. Ultimately, you may have to go to a digital marketing company or choose an online platform to perform SEO on your website. In short, you need to spend money.
Small businesses can start SEO with a monthly budget of $150-$200, and mid and large-scale businesses can start with $500/month. (Seo cost calculator)
Let's see some occasions where it's worth paying for SEO.
New openings – When you start a business, you must promote it on a large scale to compete with others.
Special events – Events such as the Black Friday sale or Christmas.
Promotions – Any specific product or services you want to pitch in the market.
Is it essential to pay for SEO?
Suppose you own a business or a website, and you don't know the technicalities of how SEO is done. In that case, the only way left is you can hire an SEO professional or become a client of any good SEO agency.
Should you pay monthly for SEO?
Once SEO is performed on any website, it will drive traffic organically. The result will last about 1-1.5 years, and your rankings will slowly go down if you stop adding content.
To maintain your organic traffic, you must add frequent content and update the old ones.