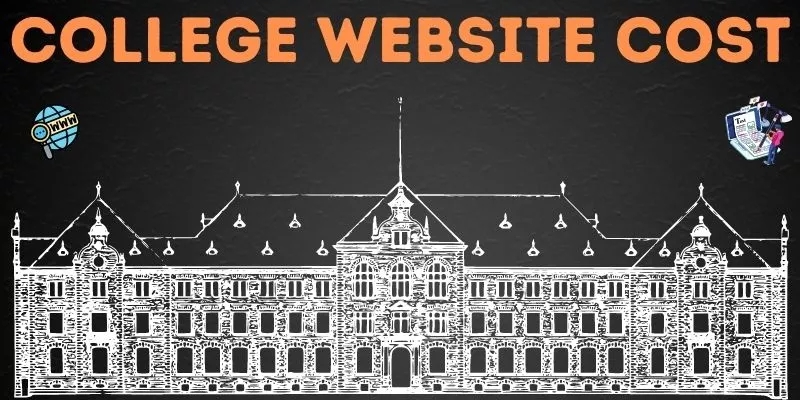 Quick Answer
✨A college website costs between $200-300.
Are you looking forward to making a college website? But you may have many questions in your mind regarding the price. Don't worry. I have listed all the expenses you need to make a college website.
Making a college website will cost you $250-$300. This includes a domain name with.edu, .ac, and .org domain extension, costing around $25-$30. Website hosting costs around $80-$100.And hiring a web developer or designer and other expenses can cost between $100 and $ 200.
You must be a college authority. That's why you are reading this post. Before giving any website order to any web designing company, don't provide confidential information such as results, question papers, and student details.
If you are willing to share information, do it in a limited way.
Read further to know what you need to do to make a good college website in detail.
Related: Static Website Cost – The Cheapest Way To Create A Website.
What things do you require to make a college website?
Domain Name (Cost $9.99/year)
If you are making a college or university website, try to buy a domain name with .org,.ac, or .edu on its domain extension. This will add extra authority to your domain name.
But getting domain extensions like .ac.us and .edu is not so easy as you have to be eligible for many things. Read complete documentation on registering .edu domains.
Instead, buy a .org domain to make your college website quick. It costs just ($8-$9). If you don't know about the domain name extension, you can check out the complete list of domain names and their use cases.
Web Hosting(Cost $80/year)
Website hosting is one of the most important things to make a great website. You can say that it is the backbone of a website.
There are a lot of companies that provide hosting services. But if you are starting a website, buy from a place where you get quality and quantity, and the best place to get it is from hostinger.
I have been personally using hostinger for the past few years as my hosting provider, and this blog is also hosted on hostinger.
I am using business-shared hosting, which costs me approximately $80/per year. You can also buy from here.
Maintainance charge(cost $100/per month)
Website maintenance is entirely optional. You may be reading this post because you work in college or are new to this field of website development.
But maintaining a college website needs at least a group of 2-3 people due to the vastness of data.
As there is too much data of students to input, if you are giving someone the responsibility of maintaining a college, ensure that particular as there's too much sensitive data involved.
Or you can give them limited authorization. Just tell your web developer to provide full approval to you, and then you can limit theirs.
Web designer and developer. (One time $500)
Designing and developing a college website can cost $200 -$500. But if you go to a popular design agency, it can go up to $1000-$3000.
If you make the first college website and have a low budget, you can start with a couple of hundred dollars.
Things to include on the college website.
Students' login page and their information.
The college websites must include these things for students.
Registration page for a degree, admission, etc.
Details Correction page.
Syllabus.
Merit list and student details in a particular class.
Admit card or exam hall card downloading page.
You should first include a student login page on a college website. From where students can access, add and remove their data.
Thousands of students in any particular college fill out registration forms and apply for recheck enrollment. All other facilities should be focused on students on the website.
The primary users of any college website are students, so make sure to have a website designed for your college that students should admire. As a college authority, you can take a small survey at your college of 100-150 students.
Teachers login page.
Students, teachers, and professors will use a college website the most. So make sure to include these things for college teaching staff as well.
Teacher login page.
Attendance page of students.
Online class portal.
Research publications.
Content writing.
As online learning has gained popularity, you must include an online class portal on your website where teachers can take online classes.
But developing an online learning portal is expensive, so just put the external link of the zoom app or google meet to save your money on a website.
Other than publishing a timetable or making teachers schedule their timetable independently if the authorities allow it.
Result declaration page.
Online result declaration is most important. Every institution does that nowadays, but as these confidential things keep this in the hands of someone responsible person don't give them to a third party person.
User authentication factors such as roll numbers, date of birth, or contact numbers are more secure when someone wants to see results on the website.
Other important yet optional things. ($100 -200)
Now other essential things that are not compulsory but can be included in your website.
The first thing is local SEO; SEO experts spend a lot of money promoting any website, which also increases your organic traffic. Doing local SEO using GMB and geo-targeting content can increase your local traffic.
Other than that, writing blogs and articles can also increase your web presence on google and other search engines.
A digital advertisement is a good option if you want to get students for admission to your college. These include google ads, youtube ads, Facebook ads, and other social media platforms. There's so much of a limit of budget here.
Most of your website users will be locals or students studying at your college. But if you want to increase the number of students in college, you can go for digital advertisement. Start advertising one or two months before the session start or after the final exams are over.
This way, you will get the maximum reach, and your ROI will also become high.
How much will it cost to maintain a college website?
Maintaining a college website can cost between $50-$80 per month. This can also be handled individually for almost 7-8 months as no exams and admission are conducted.
But you must do the following things during exams and admission as a college authority.
Check fees due are cleared or not.
Publish admit cards for students.
Publish time table of exams.
Publish a new syllabus for the session.
Application of degree, migration, and transfer certificates.
All these things need to be added up to the college website. Also, you can change some of the stuff as per your requirements.
FAQ
Are college and school websites the same?
College and school websites offer the same services and facilities to students. So the cost of making a college and school website is the same.