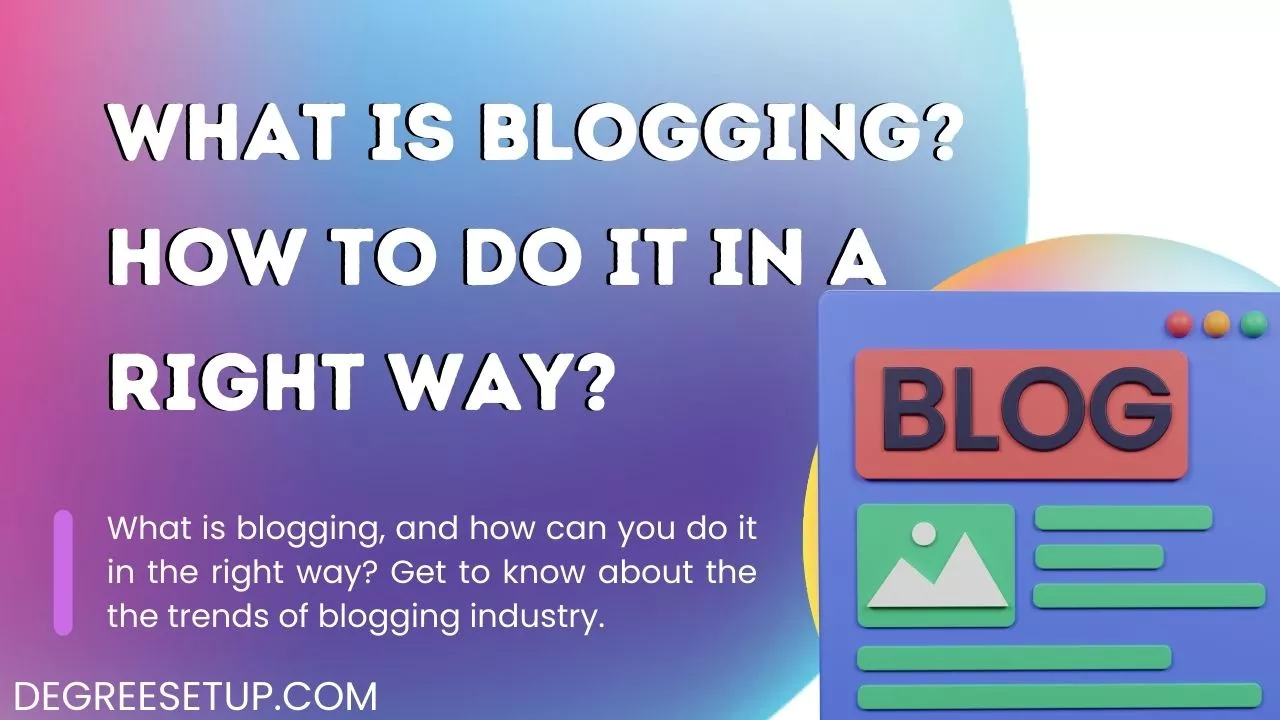 Blogging is a way to share information using text, images, and visual media with the help of the internet. It helps many people to convey their thoughts and knowledge on a web page. It is mainly done for people seeking information about a specific topic or a subject.
Today blogging is mainly done to share information and earn money from it. There are a lot of monetization methods too which can be used.
The first blog was started in 1994 by an undergraduate student of Swarthmore College named Justin hall. He was the first person in the world to start a blog on the word wide web. The name of his blog is links.net. Later he was named the "founding father of personal bloggers" by New york times magazine.
Today most people create their blogs to earn money from it. Writing blogs about personal life is getting old-fashioned, and people are choosing niche topics over them.
In the early '20s, when google acquired blogger.com, this was the rise of the blogging industry. Google kept blogger as a free platform so people could write content and share information.
Blogger.com was started in 1999, and WordPress came in 2003. Still, if you ask any blogger about the best blogging platfrom majority of them will go with WordPress.
Google only would benefit from the content that users upload on the internet that can be accessible to others with the help of Google.
How does blogging work?
As a blogger, you must know how to write content that should be delivered to the right audience. For that, you must know how blogging works and what procedure a search engine uses to display a particular blog post when someone searches for a query.
I have divided the procedure into various parts to understand how blogging works.
Step 1 – In the first step, people create their blogs and start putting content based on their niche.
Step 3 – People search for a specific search query.
Step 4 – Your content gets displayed if you have added helpful and if the information matches the search intent.
Step 5 – The more people click on your content, it will signal search engines, and your content will start ranking in the top position.
Step 6 – You will start getting backlinks and mentions on other people's websites and social media platforms if your content becomes popular.
Step 7 – Keep your blog post updated with the latest trends to keep your ranking better.
What do bloggers do?
Most bloggers' main aim is to provide trustworthy information to their readers, and in return, they make money from either recommending a product or putting ads on their website. Most individual bloggers write, edit, proofread and publish their posts.
Types of blogs.
There are Five types of blogs based on giving information. Here I have not categorized blogs as per niche but listed them and what type of information they share.
Marketing blogs.
These blogs contain information related to various products and services. People who write these blogs are product reviewers or copywriters.
For example, marketing blogs are mainly written by people who want to sell something on the internet.
Courses.
Info products.
Physical products.
Educational blogs.
These blogs are written to help students and people looking for educational content online. As per commercial intent, education blogs can be a great way to start writing and earn money.
Research-based blogs.
These blogs get low traffic but have the most trustworthy content. Research-based blogs are primarily written by experts such as doctors, teachers, or research students. So before they publish them, they do extensive research.
Niche blogs.
Niche blogs are focused on a single niche(topic), such as Automobiles, Food, and Digital marketing. Most bloggers today are niche bloggers, and Google encourages them to blog about a single topic.
Personal blogs.
At first, these blogs were most popular as people used to tell their day-to-day life by writing words. But hardly a few people do this now on the internet. And many of them are either internet personalities or famous people.
Is blogging going to be dead in 2023?
As video content consumption has increased in the past few years, many people think blogging will end in a few years.
Let me clear all your doubts. Blogging will not die for at least 10-15 years or more. Blogs are articles that are the quickest way to get information compared to video or any other source.
I can prove this point by sharing just a simple example. Suppose you want to get information about the current bitcoin price and its prediction about price in the next 2-3 months. What type of content would you choose, a video or an article?
If you choose to see a video, at least you need to give 2-3 minutes to a video. On the other hand, an article would appear as a google snippet when your search about the price of bitcoin.
How to start blogging?
Today if you want to start a blog, there are multiple ways you can opt for it. Multiple platforms you can create your blogs, such as blogger.com, WordPress, Hubspot, Wix, and Joomla. Among them, the most popular and convenient source of blogging is WordPress.
It has millions of users, from big companies to small individuals. Everyone uses wordpress. If you are thinking of starting a blog, go with WordPress.
Skills to learn to start a blog.
Basic computer skills.
English and typing.
Search engine optimization.
Image editing.
Basic knowledge of Html and CSS.
Things to do before you start blogging.
Find a niche or topic.
Research the topic and analyze the current market trends.
Find some low-competition topics that you can work on.
Steps for starting your first blog.
Buy domain name & Hosting.
Install WordPress on your hosting platfrom.
Install a lightweight theme.
Configure your blog. (Add logo, design homepage, and create essential pages.)
Steps to start working on your blog.
Start writing on your blog. Add one blog post daily.
Find new and trending topics in your blog posts.
Add graphical images and videos to your posts. (Infographics and youtube videos).
Update your blog posts frequently.
Steps for making money from your blog.
Join programs like Adsense and Ezoic.
Include affiliate products in your blog post.
Sell info products.
Create courses.
How can you do blogging in the present situation?
Today people are inclined to watch videos on social media platforms for information and entertainment.
But talking about the current situation reading blogs is the quickest way to get information. Videos are good sources of information, but you have to watch them for 10-15 minutes to get all the details.
On the other hand, reading blogs is still a quicker source of information and reliable too.
If you are thinking of creating a blog this year, choose a topic that will benefit you for at least the next 5-10 years.
Here are some examples of niches that you might choose to write about on your blog, and they also have a promising future in blogging.
Crypto.
Data Science.
Cloud computing.
Remote jobs.
Electric vehicles.
Online learning.
A.I
These are some topics that you can choose from and create a blog.
How can you become a successful blogger?
To become a successful blogger and earn a living out of this profession. Here are things that I learned from famous bloggers like Neil Patel, Pat Flynn, and Amit Agarwal around the world.
Consistency – The first quality that these people have followed is painting consistency on your blog. No matter what, if your blog fails, you don't have to be demotivated and write content every day possible.
Building authoritativeness – Many people lack in this, but as I mentioned about the famous bloggers, they have built authority with their content, which took them many years to do so. But you can shorter this period by creating more and more content in your industry.
Monetize smartly – Do you know why people visit your blog? They don't care about your ads or affiliate programs to get answers to a specific question. If you promote affiliate ads and monetize your blog extensively with lower content, that would not work. Put your content first, then think about monetizing it.